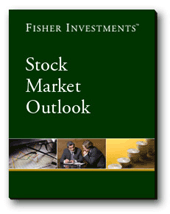 Global stocks were gangbusters in Q1 2012—the best Q1 return since 1998. In our view, there's more upside ahead in 2012 and beyond.
Woodside, CA (PRWEB) April 30, 2012
Fisher Investments released its second quarter 2012 Stock Market Outlook, an in-depth analysis of recent global macroeconomic trends and a market forecast for the remainder of the year.
"Global stocks were gangbusters in Q1 2012—the best Q1 return since 1998," said Research Manager Aaron Anderson. "In our view, there's more upside ahead in 2012 and beyond." While Fisher Investments believes the initial bounce-back period of the bull market that started in 2009 is passing as we transition into a more mature stage, the firm still expects 2012 to be a positive year for equity markets.
A combination of expansionary global economic data, attractive stock valuations and still-steep US and global yield curves all seem good indicators of future economic health. Fisher Investments believes earnings and revenue growth will continue in 2012, though expectations have been lowered—a factor, from Fisher's perspective, making it easier to exceed market expectations.
The Stock Market Outlook includes an overview of recent developments in the PIIGS nations, including Greece's huge but orderly debt restructuring in Q1. It also discusses the current American political outlook, including the recently concluded Supreme Court hearings on the Affordable Care Act and various scenarios for November 2012's national election.
Written under the direction of the firm's five-member Investment Policy Committee (IPC), the Stock Market Outlook is published quarterly. Fisher Investments' IPC members are CEO and Chief Investment Officer Ken Fisher, Vice Chairman Jeff Silk, Vice Chairman Andrew Teufel and Research Managers Bill Glaser and Aaron Anderson. The IPC oversees Fisher Investments' portfolio strategy, in-house research efforts, portfolio engineering and capital markets technology development.
About Fisher Investments
Founded in 1979, Fisher Investments is an independent, privately-owned money management firm with tens of billions under management. Fisher Investments maintains two principal business units, Fisher Investments Institutional Group and Fisher Investments Private Client Group, which serve a global client base of diverse investors. Fisher Investments' clients include over 100 large institutions and over 25,000 high net worth individuals. Founder and CEO Ken Fisher has written the Forbes "Portfolio Strategy" column for 27 years, has written 8 books on investing and personal finance (5 of which are national bestsellers), and in 2010 was named by Investment Advisor magazine as one of the 30 most influential industry individuals in the last 30 years (Thirty for Thirty, May 2010).