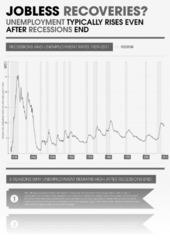 Historically, unemployment peaks after economic recovery is underway and even longer after a stock market recovery's begun
Woodside, CA (PRWEB) November 17, 2011
Fisher Investments released a "Jobless Recoveries" infographic depicting historic unemployment rates following recessions. The examination of seasonally adjusted national unemployment rates against official recessions during 1929-2011 reveals interesting results. As the data shows, unemployment rates typically remain high even after the economy begins recovering from a recession.
"Historically, unemployment peaks after economic recovery is underway and even longer after a stock market recovery's begun," said Research Analyst Michael Hanson. "Unemployment will likely stay elevated for a time, but history tells us that doesn't have to hold back stocks or economic recovery."
While many factors can affect unemployment rates and an economic recovery, this infographic explains five reasons that explain much of the post-recession unemployment lag. For example, the official "national unemployment rate" is not an accurate measurement of the population with or without a job. It is purely a percentage based on the number of current job seekers—an important distinction. Many job seekers get discouraged mid-recession, put their search on hold, and only pick up their job search once the economy shows signs of improvement. These then "new" job seekers increase the percentage of unemployed under this statistic, yet nothing has changed for these job seekers personally during or after the recession.
Learn the other four reasons why unemployment remains high after recessions end – access the "Jobless Recoveries" infographic at Fisher Investments' Flickr page: http://www.flickr.com/photos/fisher-investments/.
About Fisher Investments
Founded in 1979, Fisher Investments is an independent, privately-owned money management firm with tens of billions under management. Fisher Investments maintains two principal business units, Fisher Investments Institutional Group and Fisher Investments Private Client Group, which serve a global client base of diverse investors. Fisher Investments' clients include over 100 large institutions and over 25,000 high net worth individuals. Founder and CEO Ken Fisher has written the Forbes "Portfolio Strategy" column for 26 years, has written 8 books on investing and personal finance (4 of which are bestsellers), and was recently named by Investment Advisor magazine as one of the 30 most influential industry individuals in the last 30 years (Thirty for Thirty, May 2010).
###