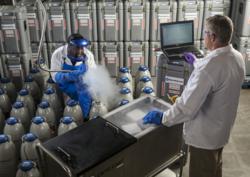 Companies that overlook these issues until clinical trials begin can find that they have inadvertently limited their product's scalability and commercial viability, or incurred unnecessary costs and complications downstream
Rockville, Maryland (PRWEB) January 24, 2013
(January 22nd, 2013) — Fisher BioServices, the world's leading provider of biospecimen storage, cell therapy logistics and related clinical trial services, announced today that Mr. Dan O'Donnell, Associate Director of Cell Therapy Logistics at Fisher BioServices, and Mr. Bruce C. Simpson, Director of Commercial Operations at Fisher BioServices, will be presenting at the 2013 Phacilitate Cell & Gene Therapy Forum, January 28-30, in Washington, DC. This year's Forum focuses on bringing therapeutics "From Promise to Products" and features presentations and roundtable discussions on positioning new cell and gene therapies for commercial success.
Companies with cell-based therapies nearing clinical trials and FDA approval face the challenge of transporting their product in compliance with FDA requirements for cold chain / chain of custody documentation. Mr. O'Donnell and Mr. Simpson are recognized industry experts on the handling and distribution of gene and cell-based therapies, and will be sharing the latest innovations on the distribution of cell-based products and regenerative medicines from the manufacturer to the patient, while complying with all applicable Title 21 CFR criteria.
The critical issues of commercial viability will be addressed in the first plenary session, and will include valuing cell therapies, reimbursement in the current healthcare environment, and other factors that may influence a product's commercial success, including distribution systems.
During this session, Mr. O'Donnell will outline the variables that must be considered during every point of transfer in the delivery of cell therapies to the patient, and will discuss the challenges and technical considerations involved in moving cryogenically frozen products around the world.
According to Mr. O'Donnell, "To develop a commercially viable cell therapy, companies have to consider packaging, storage, inventory management, monitoring systems, distribution, and even clinical site capabilities from the very beginning. Companies that overlook these issues until clinical trials begin can find that they have inadvertently limited their product's scalability and commercial viability, or incurred unnecessary costs and complications downstream."
Following his talk, Mr. O'Donnell will also participate in the round table discussion, "What does a commercially successful cell or gene therapy look like?"
The first breakout session following the plenary talks will address commercially feasible manufacturing and business models. Mr. Simpson, Fisher BioServices' Director of Commercial Operations, will offer his insights on cold chain transport and building efficiency into operational processes, and will discuss recent case studies for allogeneic vs. autologous therapies. He will then participate in a roundtable discussion focused on minimizing the cost of goods and maximizing efficiency of operations.
About Fisher BioServices
Fisher BioServices has 25 years of experience in biological repository/biobanking services, cold chain logistics, and in supporting clinical trials and public health research. The company manages more than 170,000,000 high value biological specimens, cell-based therapeutics, vaccines, tissues, and sample-related data. Fisher BioServices has cGMP compliant repositories, laboratories, and specimen collection kit production and clinical trial support capabilities, depots, and affiliated sites around the world, and serves more than 20 government and hundreds of commercial clients. Fisher BioServices is part of Thermo Fisher Scientific, Inc., the world leader in serving science.
About Thermo Fisher Scientific
Thermo Fisher Scientific Inc. is the world leader in serving science. The company enables its customers to make the world healthier, cleaner and safer by providing analytical instruments, equipment, reagents and consumables, software and services for research, analysis, discovery and diagnostics. With annual sales of $12 billion, Thermo Fisher Scientific has over 39,000 employees and serves more than 350,000 customers in pharmaceutical and biotech companies, hospitals and clinical diagnostic labs, universities, research institutions and government agencies, as well as environmental, industrial quality and process control settings. The company delivers the industry's broadest selection of analytical instruments, equipment, consumables and laboratory supplies. Its growing portfolio of products includes innovative technologies for mass spectrometry, elemental analysis, molecular spectroscopy, sample preparation, informatics, fine and high-purity chemistry production, cell culture, RNA interference analysis and immunodiagnostic testing, as well as air and water quality monitoring and process control. The company also gives its customers the most convenient purchasing options, including a direct sales force of 7,500 professionals, catalogs and e-commerce. Visit thermofisher.com.