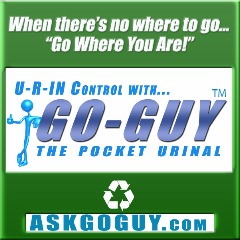 When there is no where to go, go where you are with Go Guy the pocket urinal.
Pawtucket, RI (PRWEB) May 31, 2012
Swimmers urinate in the lakes and rivers all over the world which cause unsafe conditions.
Phosphate contributes to a build-up of blue-green algae in the water, playing havoc with the a lake's eco-system and apparently poisoning the fish. According to Bild of ASV authorities have already tipped some 148 tonnes of anti-phosphate agent Bentophos into the water of one lake, at a cost of €516,000, but to little effect.
Go Guy can eliminate bathers peeing in the lakes and rivers if they use the handy pocket urinal.
U-R-IN Control is also working with various American Angler Associations to bring awareness of how Go Guy can help keep lakes and rivers clean of urine and algae build up. The U-R-IN Control bag can be carried in your pocket, wallet, and glove compartment. The pee bag is specially designed with 700ml capacity for worry free relief. It has a water tight top seal, space age polymer crystals for quick absorption to eliminate spills and odors, and can be used for emergency bladder relief when a restroom is not around.
U-R-IN Control can be found at askgoguy.com.