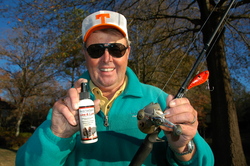 one of the best new fishing products introduced to the market in quite a few years.
Union Point, GA (PRWEB) January 4, 2008
RMR Industries announced today that outdoor television personality and International Fishing Hall of Fame member Bill Dance, is joining with the company in promotion of their revolutionary Line & Lure Conditioner®. When asked about the partnership, Dance, the star of Bill Dance Outdoors, stated that he started using Line & Lure fishing line treatment in 2006 and considers it to be, "one of the best new fishing products introduced to the market in quite a few years." Dance added, "Using Line & Lure Conditioner allows me smoother and longer casts, virtually eliminates line memory and dramatically reduces the occurrences of line backlash and line twists."
"We are extremely proud to have such a highly respected angling expert find value in our product and offer his promotional support of Line & Lure to the millions of anglers that look to Bill to help improve their fishing skills," noted company President Rob Faddis.
Mr. Faddis continued, "We are committed to helping anglers worldwide get more out of their passion for fishing. Our Line & Lire Conditioner does exactly that by allowing the angler to present their offering to the fish more accurately with far fewer line related problems and that equals more time fighting fish instead of fighting their equipment. Fishing line will remain in like new condition 2 to 3 times longer. Even fly and ice fishermen are telling us that Line & Lure is the best line treatment that they have ever used."
Line & Lure Conditioner was co-developed by B.A.S.S. Champion, Kevin VanDam and is highly praised by many professional anglers for its ability to improve line manageability on all types of fishing line. Kevin VanDam's Line and Lure and Line & Lure Saltwater Formula can be found at most fishing supply retailers nationwide including Bass Pro Shops, Gander Mountain, Academy Sports and Dick's Sporting Goods. For more information on Line & Lure Conditioner products, please visit our website at http://www.lineandlure.com or call us at 1 (877) 221- 9797 toll free.
###