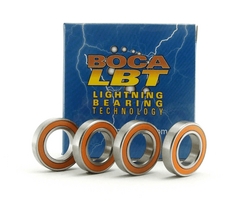 Delray Beach, FL (PRWEB) September 2, 2009
Boca Bearing's much anticipated line of Orange Seal fishing reel ceramic bearings have finally arrived. Boca's Orange Seal ceramic bearings are the true secret weapon for serious fishing and distance casting. Orange Seal ceramic bearings bring cutting edge technology to the fishing industry with increased casting distance, substantially longer life and overall better performance. Ceramic hybrid bearings are a combination of stainless steel races with ceramic balls. Ceramic balls are virtually frictionless, 1/3 lighter and several times harder than steel, as a result spool startup is faster and sustained spool speeds are much higher. The reduced friction allows some reels to free spool for up to 120 seconds!
The improvement is in the details. ABEC 7 tolerance make the Orange Seal line the closest precision tolerance that the Boca Bearing Company has to offer. Removable, non-contact rubber seals results in a bearing with less drag that requires less maintenance than a typical shielded bearing. Grade 5 ceramic Si3N4 balls make the bearing lighter and spin 50% faster than a traditional steel bearing.
Boca also offers standard Econo Power fishing reel bearings and Lightning Series ABEC #5 ceramic hybrid fishing reel bearings. The Econo Power Fishing Reel Bearing kits are the most affordable way to replace stock reel bearings. These ABEC #5 bearings have stainless steel races, balls, retainers and shields. Ceramic Lightning Fishing Reel Bearing kits are intended as an upgrade replacement to stock reel bearings. These ABEC #5 bearings have ceramic balls with stainless steel races, retainers and shields.
To complement and care for fishing reel bearings, the Boca Bearing Company has developed a full line of lubricants known as Lightning Lube. Reel Power Lube is recommended for all moving metal parts and forms a molecular bond with any metal surface. Reel Power fills in the pits and gaps in the metal surface while also providing a thin film coating to improve performance and reduce corrosion. Reel Grease Power Lube is lithium based grease that improves performance, reduces heat, extends life and resists corrosion. Also available are Clean Touch, a bearing cleaner, Bearing Soak for bearing preparation before installation and a super lightweight High Speed Oil, with a viscosity of 1875/9CS.
The Boca Bearing Company has been an industry leader in fishing reel bearing replacement for the past 20 years. We have developed a full range of aftermarket reel bearings for all the leading reel manufacturers including Shimano, Daiwa, Penn, Abu Garcia and many more. Standard & Ceramic Hybrid Stainless Steel bearings are available in ABEC 5 & ABEC 7 for all of the popular sizes. Dealer discounts are also available please contact us to find out how.
High Res Image Download
Fishing Reel Bearing Search
120 Second Free Spool Video
###