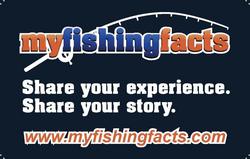 Cobia to the side of the boat. Just as we were about to pull her exhausted self in, she found herself one last ounce of energy and sprang herself free. Oh well, it was exciting just the same to FINALLY having a
Naperville, IL (Vocus) May 20, 2010
Sweet Potato Enterprises, Inc. is excited to announce an increase in membership to their online community site for fishing and boating enthusiasts, MyFishingFacts.com. Members from as far as the state of Washington to Maine, from California to Florida, and all across the Midwest are discovering how much fun it is to connect with others who share the love of the sport. Anglers from across the country are making new friends by connecting with others who love fishing, who have similar interests, have questions about fishing tips and techniques, bait, tackle, and gear or who just want to find the latest hotspots in their area.
By joining this Free Fishing Online Community, members will be able to:

Create a unique profile
Make fishing friends throughout the country
Find a new fishing 'hotspot'
Chat about local bait and gear
Start/Join fishing forums and discussions with others
Have the ability to create and promote local fishing groups
Enter Reel Babes and Reel Reports Contests that offer the potential to win cash prizes
Not much in life today is free, but this site, MyFishingFacts.com, is. It's free to join and easy to navigate. Upload unlimited photos and videos of the catch of the day. Compose your favorite fishing story, your personal Reel Report, and post it on your profile. Yours could be the next month's winner.
MyFishingFacts Reel Reports posted on the site by current members are exciting and informative:
By Grouper Girl — Tuesday, May 18, 2010 (Cape Coral, FL)
"Well, it's that time of the year again...tarpon season. Went out with some friends for just a casual day of fishing in Captiva Pass. Just expecting to snag some catch & release snapper and/or grouper, we were all surprised to have snagged something much bigger that day. All the boats around us in the Pass that day were hooking on Tarpon...you could see them jumping fantastically and beautifully out of the water, not missing their tell-tale silver scales glistening in the sunlight. Although we did not hook a tarpon, but we definitely snagged something as big and almost more fun to catch, and eat...a Cobia or shark! Now I am a rather petite person, 5'1, about 110lbs. Whatever I had on my hook tired me out in no time, and my arms were like jelly...however, my "fishing" endorphins" kicked in and since the season had been so poor this past winter in Florida, I continued to reel this mystery fish in to the boat, wanting nothing more than to actually catch my first fish since November! After a big fight with this fish, with the help of a belt and a few extra hands, we pulled in about a 44" Cobia to the side of the boat. Just as we were about to pull her exhausted self in, she found herself one last ounce of energy and sprang herself free. Oh well, it was exciting just the same to FINALLY having a "fish on"!"
Become a free member, join the community and locate fishing fanatics who share the love of the world's number one participation sport. Go to http://www.MyFishingFacts.com. Nothing to lose, everything to gain.
Check it out; we are growing by leaps and bounds. Get the facts, the fishing facts; log onto MyFishingFacts.com today. Create a user profile, share your stories, share your photos, share your videos, make new fishing pals all across the country and learn how you can catch more fish. It's the world's number one participation sport; hook, line and sinker.
###