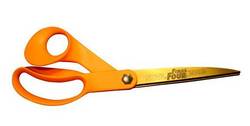 We are honored to have our scissors highlighted during the traditional net-cutting ritual. We hope the special, commemorative scissors will always serve the champion schools as a memento of their victory
Madison, Wis. (Vocus) April 2, 2009
Fiskars, the world's #1 scissors brand, announced today that it has joined with the National Collegiate Athletic Association (NCAA®) to become the official scissors to cut down the nets at the 2009 NCAA® Men's and Women's Basketball Championships.
The Fiskars® 9.5 Titanium scissors will be used by the winning teams in the post game net-cutting ceremonies for the NCAA® Divisions I Men's and Women's Basketball Championships. They feature the famous Fiskars® ergonomic orange handles and serrated, gold titanium blades, which are specially etched with the NCAA® logo.
Following the championship games, each of the winning institutions will keep one pair of the commemorative scissors for permanent display on campus.
"We are honored to have our scissors highlighted during the traditional net-cutting ritual. We hope the special, commemorative scissors will always serve the champion schools as a memento of their victory," said Paul Tonnesen, President of Fiskars Brands, Inc.
Fiskars has been recognized for excellence in cutting tools for 360 years. The orange-handled scissors from Fiskars are part of the permanent design collection of the Museum of Modern Art in New York, as well as the Philadelphia Museum of Art. Fiskars® scissors are guaranteed for life.
ABOUT THE NCAA:
The NCAA is a membership-led nonprofit association of colleges and universities committed to supporting academic and athletics opportunities for more than 400,000 student-athletes at more than 1,000 member colleges and universities. Each year, more than 54,000 student-athletes compete in NCAA(R) championships in Divisions I, II and III sports. Visit http://www.NCAA.org and http://www.NCAA.com for more details about the Association, its goals and members and corporate partnerships that help support programs for student-athletes. The NCAA is proud to have the following elite companies as official Corporate Champions -- AT&T, Coca-Cola and Pontiac --and the following elite companies as official Corporate Partners -- Enterprise, The Hartford, Hershey's, Lowe's, Sheraton and State Farm.
(NCAA, Final Four, Women's Final Four and Hoop City are trademarks of the National Collegiate Athletic Association.)
ABOUT FISKARS:
Fiskars is a leading global supplier of consumer products for the home, garden and outdoors. The group has a strong portfolio of trusted international brands including Fiskars, Iittala, Gerber, Silva, and Buster. Associated company, Wärtsilä Corporation, is also an important part of the group, and forms one of Fiskars' operating segments, together with the Americas, EMEA, and Other. Founded in 1649 and listed on NASDAQ OMX Helsinki, Fiskars is Finland's oldest company.
Fiskars® scissors are warranted for as long as the original consumer/purchaser owns the product. For more information about Fiskars® products, visit http://www.fiskars.com.
To view or download high-resolution images of Fiskars® NCAA scissors, go to:
http://pr.fiskarscrafts.com/ USERNAME: PRESS PASSWORD: FISKARS
For more information:
Suzanne Fanning
608.294.4509
# # #