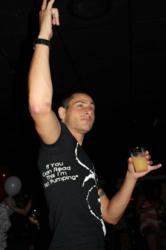 The unique Fist Pump® brand offers shirts with the trademarked slogan "If You Can Read This I'm Fist Pumping®" under the sleeve of its shirts; only able to be seen and read when the person wearing the shirt has his or her hand in the air
Edison, NJ (PRWEB) May 15, 2012
As summer approaches the Jersey Shore, Fist Pump® Shirt, a brand, marketing and promotions company based out of New Jersey is in high demand while "pumping it up" with their unique brand, nightlife promotions experience and marketing niche, with the trademarked slogan "If You Can Read This I'm Fist Pumping®" under the sleeve of its shirts;
Fist Pump® Shirts (http://www.fistpumpshirts.com) specializes in designing and producing high-quality custom shirts for bars, nightclubs, lounges, venues, events and deejays; with years of nightlife and industry experience and over 100 designs under the Fist Pump® brand with the trademarked slogan "If You Can Read This I'm Fist Pumping®" on each of the shirts.
During the winter months, Fist Pump® Shirts has attended and promoted nearly 100 events and venues throughout the tri-state area; as well as in several other states. You can check out event photos on their Fist Pump® Facebook Page
Most recently, Fist Pump® Shirts was seen on the season finale of HDNet's "Bikini Barbershop: Jersey"; whereas Fist Pump® Shirts created a custom design for Bikini Barbers' one-year anniversary party.
Fist Pump® Shirts works with numerous venues, deejays, companies and celebrities; and has created designs and shirts for Devotion Vodka, Bikini Barbers, Patron (XO Café), DJ Twist, Kel Mitchell, Angelina Pivarnick, and many more; as well - offering these designs on-line as Sponsored Shirts; offering more marketing potential and kick-backs from sales; to whom the shirt is sponsored by.
Fist Pump® Shirts also sponsors various groups, events and organizations; including the Mental Health Association; and is the official t-shirt sponsor for the New Jersey Top Bartender Competition (NJTB); and the official t-shirt sponsor for fitness model Chris "The Ab Show" White;
Fist Pump® Shirts uses high-quality shirts; environmentally friendly inks; and creates custom designs that look and feel good; which people want to wear again and again; and is the reason many top deejays and venues use Fist Pump® Shirts as their marketing and promotions company and why Fist Pump® Shirts are increasingly in demand.
The unique Fist Pump® brand offers all of its designs and shirts on-line with the trademarked slogan "If You Can Read This I'm Fist Pumping®" under the sleeve of its shirts; and has rapidly become a cultural phenomenon; only able to be seen and read when the person wearing the shirt has his or her hand up in the air.
Fist Pump® Shirts plans on making a huge impact this summer at all of the jersey shore summer hot-spots; getting each and every bar and nightclub "pumped up" throughout the summer months as well as being found in the boardwalk stores this memorial day weekend.
For venues looking for a last minute idea; give-away shirts for your event! Contact Fist Pump® Shirts to come in and party with you! Fist Pump® Shirts generates a lot of buzz; and people want Fist Pump® Shirts to come back each and every week because they want a new shirt!
For bookings or further information, please contact Fist Pump® Shirts at +1.855.600.4590 or at support(at)fistpumpshirts(dot)com
Fist Pump® Shirts Brochure: http://www.fistpumpshirts.com/fistpumpshirts_brochure.pdf
Fist Pump® Shirts Videos on Facebook
CONTACT INFORMATION
---------------------------------------
Fist Pump® Shirts
518-7 Old Post Road, #206
Edison, New Jersey 08817
+1.855.600.4590
support(at)fistpumpshirts(dot)com
http://www.fistpumpshirts.com