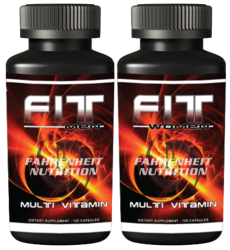 You will not find a more advanced multi-vitamin anywhere at this market price point - and we challenge any of our competitors to prove otherwise.
Hutto, TX (PRWEB) October 26, 2011
William Mellors, CEO of Fahrenheit Nutrition, spoke Tuesday about rising health costs, the importance of proactive healthcare, and the release of Fahrenheit's latest product, FIT Multi-Vitamins, a high-end vitamin formulation priced below most mid- to low-end brands currently available in the market.
Mellors remarked:
Healthcare costs are rising disproportionately in this sinking economy, and private insurance companies are bailing on their customers, making doctor and hospital visits a real financial hardship for most American families. Never before has it been more important for men and women to be proactive with their health. This means proper nutrition, daily exercise, and without question - a consistent regime of high-quality, high potency vitamins.
Already a leader in performance-enhancing nutritional supplements, Fahrenheit Nutrition has strengthened its position by introducing the FIT brand, with custom formulas for men and for women. In today's announcement, Mellors continued, " We have been meticulous in our sports nutrition formulations, providing our athletes with a perfect complement of high-end performance and recovery supplements. We are now excited to enter the mainstream market place, bringing that same level of meticulous attention to thorough supplement formulations to men and women everywhere."
Mellors does acknowledge that there are comparable formulas in the high-end supplement market, but contends none are available at the affordable price-points being set by Fahrenheit.
Both formulas, Fit Men and Fit Women, are optimized to deliver a potent dose of essential vitamins, minerals, carotenoids, and phytonutrients for optimum health and performance. Explains Mellors, "by comparison, this is where the competition drops-off and Fahrenheit steps-in, to insure our athletes and active clientele are covered. We have engineered both formulas to contain branch chain amino acids, to promote healing of injured and aging tissues, speed recovery from exercise and protect against catabolism (muscle tissue breakdown)." *
Furthermore, Fit Women is optimized with a potent combination of Resveratrol®, Pomegranate, and CoEnzyme Q10 to deliver powerful anti-oxidant and anti-aging benefits.*
In a statement released by Fahrenheit's product development office, competitors of the Fit multi-vitamin are challenged to a label-comparison within price class. Fahrenheit developers claim with confidence, "You will not find a more advanced multi-vitamin anywhere at this market price point - and we challenge any of our competitors to prove otherwise."
Fit Men and Fit Women are available online at the company's website - http://www.fnutrition.com and at local retailers nationwide.
To learn more about Fahrenheit Nutrition and its line of cutting-edge supplements, visit http://www.fnutrition.com. Consumers are also encouraged to follow Fahrenheit Nutrition on their growing Facebook site @ facebook.com/fnutrition.

These statements have not been evaluated by the Food and Drug Administration. These products are not intended to diagnose, treat, cure or prevent any disease.
About Fahrenheit Nutrition
Fahrenheit Nutrition is an industry leading supplier of high-end nutritional supplements. All products in the Fahrenheit line are manufactured using current Good Manufacturing Practices (cGNP) as defined by the FDA. Fahrenheit Nutrition products are available at retail outlets throughout the United States.
MEDIA CONTACT
Bruce Davis
(512) 846-2649
mediarelations(at)fnutrition(dot)com
# # #