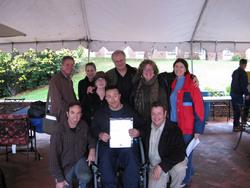 This dinner takes place on a Friday
(Vocus) January 9, 2009
Melanie Reim, professor and associate chair of the Master of Arts in Illustration program at the Fashion Institute of Technology (FIT), was one of ten Air Force Art program illustrators invited to visit Walter Reed Hospital in Washington, DC in the late fall to draw portraits of recovering veterans. This was the first time that permission of this kind has been granted. The event was organized in conjunction with a semi-annual dinner celebrating the donation of the illustrators' paintings into the United States Air Force Art collection.
"This dinner takes place on a Friday," Reim said. "Usually after the event, participants use the weekend to visit Washington's galleries and museums. This year, we wanted to give something back to the recovering vets by going to Walter Reed to draw their portraits. We received special permission for the first time to do this.
"When we arrived at the hospital, it was pouring outside, but we felt the sunshine of the vets' smiles as we drew them and heard their stories. I encouraged whoever I was drawing to speak to me as they sat. They talked about their squadron, their career in the Air Force, where they were from, and occasionally, about their injuries. This was an experience, the rewards of which I will not soon forget."
The Air Force Art program in New York is administered by a committee of the Society of Illustrators in New York. The committee organizes artists to document Air Force personnel, equipment, locations, and activities. Artists have been sent to document wars and other crises, from World War II to New Orleans after Katrina. Sometimes they document war games, rather than real-life conflicts.
"Though there are many artists involved who can replicate, down to the nuts and bolts, every airplane and HMV that exists, I have been tapped for my ability to draw people," Reim said. Her first "mission" was in May 2003.
Reim has now served on three missions, all at bases in the U.S. "I'm a documentary artist. I love the idea of recording onsite," she said. "During the Live Fire Training Exercises mission, they were using blanks. The next day, they were using live ammo."
Every two years, there's a juried show at the Society of Illustrators to select pieces for the U.S. Air Force collection at the Smithsonian, where Reim's work now resides. In addition to the Smithsonian, her work has been shown in numerous group and solo exhibitions, including a one-woman show at the Society of Illustrators. Reim's visual journals have been the subject of articles published in London and Santo Domingo, Dominican Republic. As a Fulbright scholar, Reim went to Santo Domingo to lecture and conduct an intensive figure drawing workshop. While there, she went into the sugar cane fields with her sketchbook and supplies, illustrating the daily lives of the workers and their families, and giving art classes to the local children.
Offered by FIT's School of Graduate Studies, the Master of Arts in Illustration program is geared toward both emerging illustrators who want to hone their personal style and business acumen, and seasoned illustrators who want to renew or redirect their career paths. One of the few such programs in the country, the MA in Illustration is a two-year, seven-semester program that balances traditional and digital studio courses, culminating with a written and visual thesis project. Classes are held evenings and weekends.
FIT's School of Graduate Studies offers three other Master of Arts degree programs: Art Market: Principles and Practices; Exhibition Design; and Fashion and Textile Studies: History, Theory, Museum Practice. A Master of Professional Studies is offered in Cosmetics and Fragrance Marketing and Management, and Global Fashion Management, both of which are tailored to meet the needs of experienced industry professionals. The Center for Executive Education, also administered by the school, offers the Advanced Management Program, a non-degree program for senior executives in the fashion and related industries.
The Fashion Institute of Technology is a selective college of art and design, business and technology of the State University of New York, with 44 majors leading to the AAS, BFA, BS, MA, and MPS degrees. Visit http://www.fitnyc.edu.
Contact:
Cheri Fein
Executive Director of Public and Media Relations
(212) 217-4718
http://www.fitnyc.edu
###