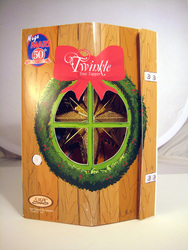 That makes their achievement particularly exciting.
(Vocus) January 27, 2009
Two teams from the Fashion Institute of Technology (FIT) have won first and second place in Paperboard Packaging Alliance's 2008 Student Design Challenge. This is the third consecutive year that FIT has taken top spots in the competition. The winners were announced at an awards luncheon on November 10, 2008 at the PackExpo conference and trade show in Chicago.
Cash prizes of $1,500 for first place and $1,000 for second place were divided among the eight students who comprised the winning teams. FIT's Packaging Design Department received $4,000 for winning the two top places. The students and their advisor, Sandra Krasovec, associate professor of Packaging Design, also received funding for the trip to Chicago.
First place was won by the team of Cassie Garcia, Janine Gomez, Kei Hayashi, and Hiromi Tatsuta. Second place winners were Alexis Champa, Joyce Liao, Stefanie Stalder, and Samira Villamor. The contest was offered to sixth-semester students majoring in Packaging Design.
The goal of this year's challenge was to package a Christmas treetop ornament for a fictional company named Seasonal Marketing Promotion Company (SMPC), which was producing the ornament for a fictional store named MegaMart. MegaMart was celebrating its 50th anniversary and also wanted to communicate its commitment to environmental issues.
Students were required to use environmentally sensitive materials to design a unique paperboard package that would advertise both the SMPC and MegaMart brands, celebrate MegaMart's anniversary, and protect the delicate product during hand-packing, loading, and shipping.
"Our students competed against students from colleges across the country with the best package engineering and science programs specializing in structural design," Krasovec said. "That makes their achievement particularly exciting."
Paperboard Packaging Alliance (PPA), a joint initiative of the American Forest & Paper Association and the Paperboard Packaging Council, provides an industry-level forum for the promotion of paper-based consumer packaging materials and supports packaging students and programs around the country with annual donations of scholarships, materials, and classroom resources. FIT is one of the colleges that has been selected by PPA to receive these donations and to take part in the annual challenge.
FIT offers a BFA degree in Packaging Design. Students learn concept development, three-dimensional structural design, and brand design, while also developing an understanding of the marketing of consumer goods. Graduates find positions with brand design firms and in-house corporate design departments in the area of brand design for consumer products. Alumni are currently working for such leading companies as Martha Stewart Living and Bath & Body Works.
The Fashion Institute of Technology is a selective college of art and design, business and technology of the State University of New York (SUNY), with 44 majors leading to the AAS, BFA, BS, MA, and MPS degrees. The college serves more than 10,000 students in such diverse areas as packaging design, fashion design, advertising and marketing communications, toy design, home products development, and fashion merchandising management. Visit http://www.fitnyc.edu.
Contact:
Cheri Fein
Executive Director of Public and Media Relations
212. 217.4700
###