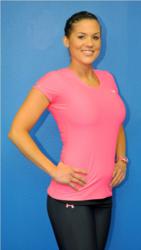 Let's change the health of Tulsa's residents, one person at a time, starting with ourselves.
(PRWEB) February 29, 2012
Tulsa resident Stephanie Flynn goes public with one of the newest locations of Fit Body Boot Camp, the world's largest fitness boot camp, with over 318 locations worldwide. Tulsa Fit Body Boot Camp is Tulsa's only indoors, women-only group personal training facility with seven sessions per day. The Tulsa Fit Body Boot Camp offers nutrition, motivation and accountability programs to every client, in addition to effective workouts, to help every person get the results she desires.
Tulsa Fit Body Boot Camp focuses on assisting women change their physical and emotional health by helping them set and attain goals, and giving them the support and camaraderie of the boot camp.
When asked about the new location, Stephanie Flynn, Owner, says, "I'm excited to have several sessions available at the Tulsa location, so I can help 1000's of women discover their true potential in life, beginning with a solid foundation in fitness. I started a career in fitness after I transformed my life in 2008 using a program similar to the one I offer at my boot camp, called Transformation by Bill Phillips. It completely changed me from being an unhealthy, depressed, girl, stuck in a downward spiral of addiction, to a happy, fit, successful and confident woman, full of recovery and purpose to share with others."
To see Flynn's transformation, watch her video (created by Bill Phillips, author of NY Times best selling "Body for Life" and "Eating for Life" books and programs): http://www.transformation.com/ttv-hd/stephanie/
Flynn started Tulsa Fit Body Boot Camp to help women in Tulsa achieve their goals and dreams in life, no matter what their past is. Flynn learned from her transformation that there is hope, and anyone—with enough positive motivation and support—can begin a new and healthy life.
Flynn continues, "Let's change the health of Tulsa's residents, one person at a time, starting with ourselves."
Visit the new location of the Tulsa Fit Body Boot Camp at:
1639 South Yale Ave. Tulsa, OK 74112
About Tulsa Fit Body Boot Camp:
Tulsa Fit Body Boot Camp was started to help women in Tulsa gain confidence, energy and self-esteem all while losing body fat and inches. The boot camp works with women who are pressed for time and feel stuck after nothing else has worked, even if they feel they are at a point of no return. Flynn began the Tulsa Fit Body Boot Camp after she used Bill Phillips' (author of Body for Life) Transformation program and completely changed her life. She became a Transformation champion (one of three who won out of over 3,000 worldwide who entered the contest). Her transformation prompted the creation of the company, and she aims to help women change as much as she has. For more information, visit http://www.tulsafitbodybootcamp.com/
###