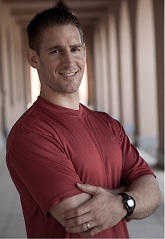 I'm so excited to be a part of this and to give back to something that is greater than myself. - Israel LoBue, San Diego Pacific Beach Fit Body Boot Camp Owner
San Diego, CA (PRWEB) October 10, 2012
Fitness boot camp franchise San Diego Pacific Beach Fit Body Boot Camp® announces it support and participation in Children's Smiles Charity Event "Biking for Self Confidence" to raise funds to help children who are victims of physical or mental abuse, or are survivors of traumatic life events.
The Biking of Self Confident Event will be held on Sunday, October 14th. Participants will meet at 9 am at La Jolla Coves and will be taken by limousine up to the top of Mt. Soledad, where they will then be taken on a guided tour with scenic panoramic views back down to La Jolla Coves. Tickets can still be purchased at: http://www.ChildrensSmiles.org/bike. Also, if people cannot attend but are interested in supporting the event, tickets can be purchased by going to the same website link and they will be donated to an abused child or a homeless person.
"We are very excited to be working with Israel and San Diego Pacific Beach Fit Body Boot Camp," says Brittany Reissman, President and Founder of Children's Smiles. "Israel is an amazing professional and excellent to work with. All of the profits that we receive from this event will go to helping kids in the City of San Diego."
"As a father, it breaks my heart that there are kids that actually go through such abuses and traumatic events," says Israel LoBue, owners of San Diego Pacific Beach Fit Body Boot Camp. "I'm so excited to be a part of this and to give back to something that is greater than myself. Children do not have a choice of who their family are, however, we have a choice to help children get the care and positive influence they need so that they can have the opportunity to grow up and be upstanding citizens in this world."
As the main sponsor for the charity event, San Diego Pacific Beach Fit Body Boot Camp is committed to bringing awareness and providing support to abused and traumatized children in the San Diego area.
About Children's Smiles
Founded in 2008, Children's Smiles is a non-profit organization that is committed to enriching the lives of children who have been physically or mentally abused, or have survived a traumatic life event. It provides financial and educational support to help children recover through its Love, Comfort, Education and Self-Confidence programs. For more information about Children's Smiles, visit http://www.childrenssmiles.org/
About San Diego Pacific Beach Fit Body Boot Camp
San Diego Pacific Beach Fit Body Boot Camp is one of the premiere indoor boot camps in San Diego. Founded by military veteran and certified personal trainer, Israel LoBue, San Diego Pacific Beach Fit Body Boot Camp offers clients with innovative and dynamic workouts coupled with personal attention and support to help them lose weight and achieve their health and fitness goals. San Diego Pacific Beach Fit Body Boot Camp is part of the family of Fit Body Boot Camp fitness boot camp franchises whose Global Goal is to expose and engage twenty percent of the world's population to a healthy and fit lifestyle by 2020. For more information about San Diego Pacific Beach Fit Body Boot Camp, visit http://www.fitbodybootcamp.com/ca/pacific-beach-san-diego-fitness-boot-camp/