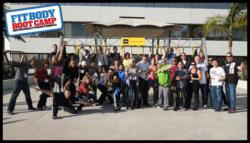 It is awesome to be hosting our 3rd World Conference...I'm so excited for our "talks" Series - Bedros Keuilian, CEO of Fit Body Boot Camp
Chino Hills, CA (PRWEB) September 13, 2012
Fit Body Boot Camp Franchise will be hosting its 3rd Annual World Conference in September 2012 where Fit Body Boot Camp Owners will congregate to learn and share best-in-class business practices, and to network with each other.
This year's World Conference will be highlighted by a line-up of 18-minute talks given by Fit Body Boot Camp Franchise Owners and Staff around specific topics that they are experts in. There will be a total of 12 talks on topics that include Exercise Programs, Sales, Systems, Client Experience, Client Retention, and Owning Multiple Locations. Each topic represents each facet of Fit Body Boot Camp's Four S's – Support, Systems, Sales Funnel and Service. Attendees will have a chance to listen to other successful Owners and learn the keys to their success.
"It is awesome to be hosting our 3rd World Conference," says Bedros Keuilian, CEO of Fit Body Boot Camp Franchise. "I'm so excited for our "talks" Series. The intent is to bring in Owners who have been able to master specific business topics and have them share how they've done it with our other owners so that they can take back what they've learned and apply it to their own Fit Body Boot Camp business."
The Fit Body Boot Camp Franchise was created and founded by Bedros Keuilian, a 15 year industry veteran in the health and fitness industry. Fit Body Boot Camp's Unstoppable Fitness Formula answers the proverbial question "When is a push-up not just a push-up?" by delivering an efficient and effective workout program that can be successfully followed by men and women of all ages and backgrounds.
The Fit Body Boot Camp Franchise workout model incorporates the best in personal training principles with the dynamic energy and community feel of group training. Clients receive awesome workouts that melt fat and burn calories combined with the right amount of support and accountability.
Its success is based on its "done-for-you" model whereby Fit Body Boot Camp Owners are provided Marketing, Technology, Operational, Coaching, and Business support from the moment they join and throughout their Pre-Opening, Grand Opening, Growth, and Maturity phases of their Fit Body Boot Camps.
About Fit Body Boot Camp
Fit Body Boot Camp is one of the fastest growing fitness boot camp franchise companies. Fit Body Boot Camp's Global Goal is to expose and engage twenty of the world's population to a healthy and fit lifestyle by 2020. Fit Body Boot Camp was developed by 2 industry leaders in the fitness industry. Fit Body Boot Camp Owners currently train hundreds of thousands clients on an annual basis. To find out more about starting a fitness boot camp business, you can contact us at opportunity(at)fitbodybootcamp(dot)com.