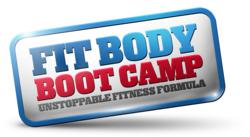 We have built our business model so that owners receive a tremendous amount of value and benefit relative to the nominal investment they make with us. ~ Bedros Keuilian, CEO
Chino Hills, CA (PRWEB) December 14, 2012
An integral part of any growing business is to conduct a periodic review of its value proposition and cost benefits to customers. Fit Body Boot Camp recently performed its own franchise review to ensure that customers are getting the benefits associated with their Fit Body Boot Camp franchise cost. The results from the Fit Body Boot Camp franchise reviews confirmed that owners were getting compelling value from their Fit Body Boot Camp franchise.
The company's fitness boot camp franchise provides owners with a turn-key business model. That means that Fit Body Boot Camp owners receive pre-developed and proven sales & marketing content and collateral, and processes & systems to develop, launch and grow their boot camp business. They save time, effort and money for not having to re-invent the wheel as well as save money that comes from making costly mistakes.
Additionally, Fit Body Boot Camp Corporate has in-house personnel that work cohesively with Fit Body Boot Camp owners to ensure that all facets of their business needs are adequately supported. Owners receive dedicated support for their Operations, Sales & Marketing, and Technology. As a result, Fit Body Boot Camp Owners have access to and support from a whole team that they do not have to hire, staff, and manage. Not only do owners save the time and potential headaches of managing a large team, but they also save tens of thousands of dollars per month on payroll.
"We constantly evaluate and review our business model to ensure that our owners receive tremendous value for what they pay," says Bedros Keuilian, CEO of the Fit Body Boot Camp. "We have built our business model so that owners receive a tremendous amount of value and benefit relative to the nominal investment they make with us."
First launched in May 2009, Fit Body Boot Camp Franchise has leveraged its success in mentoring over 290 boot camps world-wide. Fit Body Boot Camp locations can be found in the U.S., Canada, Europe, and Australia.
About Fit Body Boot Camp
Fit Body Boot Camp is one of the fastest growing fitness boot camp franchise companies. Fit Body Boot Camp's Global Goal is to expose and engage twenty of the world's population to a healthy and fit lifestyle by 2020. Fit Body Boot Camp was developed by an industry leader in the fitness industry. Fit Body Boot Camp Owners currently train hundreds of thousands of clients on an annual basis. For more information about Fit Body Boot Camp, visit http://www.fitbodybootcamp.com; email at opportunity(at)fitbodybootcamp.com or call (888) 638-3222 ext. 1.