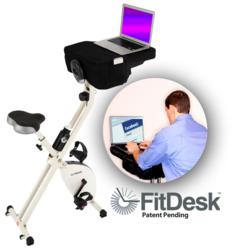 This could go a long way to explaining the relationship between sedentary behavior and mortality.
Nashville, TN (PRWEB) April 25, 2012
FitDesk, a Tennessee based product developed by REVO Innovations, has teamed up with Kent Burden, author of the new book Is Your Chair Killing You? to help get people with metabolic syndrome (e.g. Diabetes, heart disease, and/or obesity) improving their overall health. Last week an eye-opening new study was published by researcher David Dunstan and his colleagues in Australia released by the PLoS Blogs Network, which examined the acute (e.g. short-term) impact of uninterrupted sitting on metabolic health. This study and others strongly suggests that sitting for several consecutive hours has measurable and negative impacts on metabolic health (at least in individuals who are overweight or obese). According to the text of the study, "This could go a long way to explaining the relationship between sedentary behavior and mortality – if you are engaging in uninterrupted sitting for periods of a couple hours on a regular basis, that could be exposing your body to elevated glucose and insulin levels following every meal, which over the long term could have serious consequences."
Also according to the PLoS Blogs Network, "On the bright side, this study also suggests that simply taking an occasional walk break at a very light intensity could substantially reduce the impact of prolonged sitting." In the Dunstan study participants walked at just 3.2 km/h (2 mph), which is a leisurely stroll for most able-bodied individuals. In other words, these participants were not "exercising" in any way – they were just standing up and walking around at a very easy pace, just as you might when walking from your desk to the restroom. This study shows the importance of regular low intensity movement over the course of the day.
"My book Is Your Chair Killing You? cites additional studies that reinforce this conclusion," says award-winning and best-selling author Kent Burden. In the book I offer readers a series of simple, fun movements based on yoga, Pilates, tai chi and conventional physical therapy that can be done at your desk or in your living room without working up a sweat."
Ryan Moore,VP and Co-Founder of FitDesk thinks his company can help as well. "Our product FitDesk helps people be more active in both office and home settings and gets people moving during times they would normally be sedentary. The movement also helps them stay more productive."
FitDesk is not a piece of gym equipment, nor is it designed for hardcore sweaty spin sessions. Instead, this basic stationary bike is perfect for low-intensity/long duration movement to combat the effects of inactive sitting while the user is gaming, writing, and computing. Fitted with a cleverly designed work surface, it is also meant to stimulate thought processes and creative thinking rather than allowing the user to succumb to mind-numbing inactivity. "After all," Moore adds, "Einstein developed his theory of relativity (E=mc2) while riding his bike-not while sitting behind a desk!"
Burden and FitDesk believe that by combining knowledge and products that can help people be more active over the course of the day they can help Americans be healthier, happier and more productive. The rapid success of Burden's new book, which has risen in its first two weeks since release to #5 on Amazon.com's Injury Prevention Bestsellers List illustrates the public's desire for practical advice on improving its health. FitDesk offers product-specific solutions to the lifestyle diseases that plaguing Americans today. Both FitDesk and Burden's book Is your Chair Killing You? are available at Amazon.com