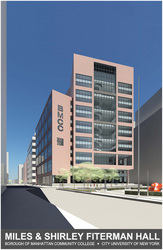 It shows that the City really cares about our school, that they know how important our education is
New York, NY (Vocus) December 2, 2009
Today, December 1 at 11:00 a.m., City, state and federal dignitaries will speak at a groundbreaking ceremony to commemorate the rebuilding of Fiterman Hall, a Borough of Manhattan Community College building destroyed on 9-11—the nation's only academic building destroyed by a terrorist attack.
On September 11, 2001, when World Trade 7 fell, it slammed into Fiterman's south wall, causing irreparable damage.
The Groundbreaking will take place in tented space on Greenwich Street between Barclay and Park Place in Lower Manhattan. Mayor Michael Bloomberg will open the ceremony.
"Fiterman Hall's reconstruction will be the latest milestone in Lower Manhattan's remarkable comeback, and its transformation into a vibrant, 24/7, family-friendly community," says Mayor Bloomberg. "This new world-class academic building is an investment not only in Borough of Manhattan Community College, but in the students and faculty that will occupy the building and the people that live and work in Lower Manhattan."
Governor David A. Paterson, who sent his congratulations on the groundbreaking, says, "The start of construction on the new Fiterman Hall is a significant milestone for both the BMCC family and Lower Manhattan. The state-of-the-art facility will provide the space needed to support a center of learning and will symbolize the resurgence of an area devastated by terror. I applaud the many individuals and organizations who were committed to this project and extend my heartfelt congratulations to the BMCC students, faculty and community."
"This is a long-awaited day in the reconstruction of my Lower Manhattan community," says New York State Assembly Speaker Sheldon Silver, who will be unable to attend. "And it is an especially gratifying day for me, as the careful deconstruction and reconstruction of Fiterman Hall has been at the forefront of my efforts to bring my hometown community back from the devastation of September 11. I look forward with great anticipation to the day when we celebrate the grand re-opening of Fiterman Hall."
Borough President Scott Stringer, who will be speaking, says, "Upon its completion, Fiterman Hall will be not just a 14-story educational facility but another important piece in the rebuilding of Lower
Manhattan ," said. "As a CUNY graduate I am proud to take part in today's groundbreaking, and I look forward to the day that students can once again utilize the resources at Fiterman Hall."
Rebuilding: A powerful signal that New York City is moving forward from 9-11
"A powerful signal has been sent throughout the world confirming that our society deeply values higher education opportunity here in downtown Manhattan," says CUNY Chancellor Matthew Goldstein.
When the Borough of Manhattan Community College (BMCC), of The City University of New York (CUNY), lost Fiterman Hall—it lost one third of its classroom space—just as community college enrollment began a dramatic rise, nationwide.
CUNY Chancellor Goldstein, BMCC President Antonio Pérez, students, community leaders, the Lower Manhattan Development Corporation (LMDC) and others will participate in the Fiterman Groundbreaking.
"The rebuilding of Fiterman Hall," says BMCC President Pérez, "is a momentous occasion for BMCC students and the entire Lower Manhattan community. The tragic destruction of Fiterman Hall in 9-11 brought together community leaders, political leaders, government agencies at the local, state and federal level, and many other entities to show our students that we believe in their future, and that the future of our City depends on our investment in their education today."
"It shows that the City really cares about our school, that they know how important our education is," says BMCC computer science major Luis Deleon.
Federal, state, city–and community partnerships
Fiterman Hall, donated by Miles and Shirley Fiterman in 1993, was directly adjacent to Ground Zero, with BMCC's main campus only a few blocks away, at 199 Chambers Street. An unprecedented partnership between federal, state and City agencies has characterized BMCC's response to the attacks of 9-11, not only to rebuild Fiterman Hall, but to address the World Trade Center tragedy's larger impact on students, the entire campus and neighboring communities.
The new Fiterman Hall will be an environmentally friendly building with 96 classrooms, office space, community gathering areas, a ground floor art gallery and small conference center is projected to open approximately in Spring 2012. Construction costs will be $325 million and the City's contribution will amount to $139 million.
Coming back stronger than ever
Taking down the irreparably damaged Fiterman Hall has been "one of the cleanest deconstructions ever," said Robert Lemieux, Executive Director of CUNY's Department of Design Construction and Management.
The BMCC and Lower Manhattan communities rallied with City and State leaders to set the standard for environmentally safe worksite strategies, providing air quality samplings, inspection updates and other information to community residents and board members, every step of the way.
Speakers
Jay Hershenson, Senior Vice Chancellor for University Relations and Board Secretary, The City University of New York
Michael Bloomberg, New York City Mayor
Scott Stringer, Manhattan Borough President
Errol Cockfield, Head of Communications and Community Affairs for the Lower Manhattan Development Corporation
Judy Rapfogel, Chief of Staff for New York State Assembly Speaker Sheldon Silver
Paul Williams, Executive Director, Dormitory Authority of the State of New York (DASNY)
Matthew Goldstein, Chancellor, The City University of New York (CUNY)
Iris Weinshall, Vice Chancellor for Facilities Planning, Construction and Management, CUNY
Robert Douglass, Chairman of the Board of Directors of the Alliance for Downtown New York
Antonio Pérez, President, Borough of Manhattan Community College (BMCC/CUNY)
Steve Fiterman, representing the Fiterman Family
During the eight years since 9-11, BMCC has been a leader among community colleges in the region and nationwide, by continuing to develop degree- and non-degree programs meeting the educational and workforce training needs of New Yorkers striving to change careers or upgrade their current employment in these challenging economic times—22,000 individuals earning associate degrees in more than 25 fields, and 10,000 continuing education students seeking to upgrade their work skills—from 155 countries.
###