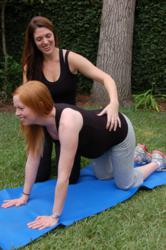 Give the pregnant and new moms in your life the gift of health
Los Angeles, CA (PRWEB) November 28, 2012
This holiday season, give the pregnant and new moms in your life the gift of health. After all it is the gift that keeps on giving. Here are our four healthy mom gift picks:
1. Personalized Exercise Program
A woman's prenatal and postpartum exercise program needs to be tailored to her unique body, goals, limitations, and life/family distractions. On top of everything else that moms deal with on a daily basis, adding the responsibility of creating a safe and effective exercise program can be daunting. That's where Fit for Expecting's Personalized Exercise Program comes in. Give your loved one the incredible gift of an exercise program tailored specifically for her, telling her exactly what to do and when. Personalized exercise programs aren't just for celebrities anymore!
To purchase a gift certificate, visit http://www.fitforexpecting.com or email info(at)fitforexpecting(dot)com.
2. Fitbook
Now that you got her a personalized exercise program, she needs something to keep herself accountable to stay on track with her workouts and healthy eating. The fitbook and fitbook mama2b (for pregnant moms) have everything she'll need to log her workouts and food/drink intake. What we love most about the fitbook and fitbook mama2b is that they can be used by ALL moms – moms that have never exercised before and avid exercisers… runners and yogis… meat-eaters and vegans.
The fitbook and fitbook mama2b retail for $22.95 and $24.95 respectively. Buy them online at http://www.getfitbook.com.
3. For Two Fitness Apparel
This one's for the pregnant moms…
Pregnant celebrities look so cute going to and from the gym and chances are they're wearing For Two Fitness workout clothes. For Two Fitness is a favorite of celebrities, athletes and fitness professionals , and for good reason. The clothes are designed to "flatter her bump, enhance her confidence, and inspire her joy." Functional and stylish – best of both worlds!
Browse the entire collection of activewear and buy online at http://fortwofitness.com/.
4. BodyWorksBand
And this one's for after the baby is born…
Moms are busy and don't have much time to exercise. They need to squeeze in workouts whenever and wherever they can. The BodyWorksBand is the perfect fitness product for moms! It's a carry-anywhere exercise band with a full-body strength training workout printed right on the band (so no need to remember exercises, because they're right there). It's affordable, fits perfectly into a busy lifestyle and can be used by anyone, no matter their fitness level.
The band retails for $14.95 and can be purchased online at http://www.bodyworksband.com.