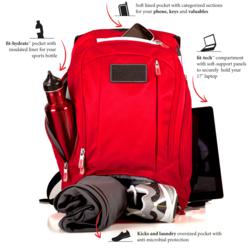 As a lifelong fitness enthusiast, I've seen one too many of my stylish and successful gym-
mates walking around with shapeless, unfashionable, and downright mediocre bags
San Francisco, California (PRWEB) May 07, 2012
Fitmark™, recognized as the premier bag and luggage brand for fitness enthusiasts, today announces availability of the first five bags to ever be released from the company. From the enormous fan base following the Fitmark brand, to well-known fitness icons such as world fitness champion, Ava Cowan, these highly anticipated bags are now available for pre-purchase online.
In a Lululemon world, where fitness enthusiasts want their gym wardrobe to reflect their everyday style, Fitmark founder, Mark Samuel, understands there's an emerging trend where the fitness and fashion industries will continue to meet. Up until now, bags have been overlooked by most athletic apparel companies. The new line of Fitmark bags will meet the needs of stylish, image-conscious gym-goers around the world, whose fashionable gym gear hardly match their average gym bags.
"As a lifelong fitness enthusiast, I've seen one too many of my stylish and successful gym- mates walking around with shapeless, unfashionable, and downright mediocre bags," said Mark Samuel, Founder and CEO of Fitmark. "My answer to this problem was the creation of the first line of Fitmark bags. With each model, I hope to showcase a product that is beautifully designed, with great utility, intricate detailing, definition, and a purpose. I truly believe Fitmark bags will be something every fitness or sports enthusiast, athlete, and fitness professional will love."
"As an IFBB Figure professional who takes training, competitions, my success and everything I believe in very seriously, I can honestly say that Fitmark is the first bag company that truly understands my lifestyle," said Ava Cowan. "The bags embody the sophistication and essence of style that those of us living this journey can appreciate. It feels fantastic to finally have access to a well designed and fashionable bag for the gym, appearances or for traveling around the world. Fitmark represents the quality of life I strive for impeccably, and I couldn't be more thrilled!"
Beginning today, stylishly fit gym-goers are encouraged to dump their mediocre bags and purchase a bag that has just as much style and grace as they do. Fitmark continues to build anticipation for the launch of the first line of bags, and now followers and fitness gurus alike can now pre-order one of the three backpacks and two tote bag designs.
Fitmark Bag Details

Price of bags range between $139 to $169
Includes specific compartments for lap top, shoes, water bottle, toiletries, phone, and more
Designed with hand-picked fabrics, custom colorways and detailed stitching
All pre-orders made in the first month will receive a 25% discount and free shipping
Purchases can be made by visiting: http://www.fitmarkbags.com/bags
About Fitmark
Fitmark is the premier bag and luggage brand for fitness enthusiasts. Our products are designed exclusively for the person who takes pride in every element of their look. Starting at $139, our exclusive line of fitness-centric bags, reflect a mark of success, style and sophistication because we believe everyone can have it all in one bag. We know fitness and sports enthusiast, as well as athletes and fitness professionals, put a lot of time and effort into designing their body. At Fitmark, we're no different. For more information visit: http://www.fitmarkbags.com