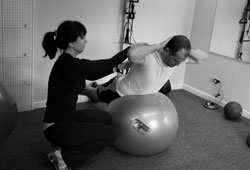 People are living longer and pushing their bodies to achieve more in pursuit of staying young and strong
Belmont, CA (PRWEB) September 20, 2011
Redwood City/Belmont Sportzal Corrective Fitness Studio announces they offer personal training that goes above and beyond that found at a regular gym. They focus on helping active people stay active for years to come.
"People are living longer and pushing their bodies to achieve more in pursuit of staying young and strong. However, due to the lack of appropriate training, their bodies start to give up. As a result, in the United States alone, musculoskeletal conditions account for approximately $254 billion a year in associated healthcare costs, lost productivity, and medical research according to a study conducted by United States Bone and Joint Decade 2002. Right now is the perfect time to introduce corrective fitness to the masses," said Galina Fedorova of Sportzal.
Everyone at Redwood City/Belmont Sportzal's fitness center undergoes either a full body assessment for personal training or a fitness assessment if they are interested in joining a group class such as yoga or zumba. The professionals at Sportzal take their work very seriously, and guarantee results.
The services at Sportzal Corrective Fitness Studio are designed to help clients prevent and minimize injuries, aches and pains, anxiety and stress. The experts teach clients how to exercise correctly and provide customized personalized training to fit their customer's needs.
Whether a customer wants to lose weight, train for a marathon, continue with post physical therapy or post rehab training, or simply to get fit, the highly experienced staff at Sportzal are trained to help achieve those goals.
Starting October 1st, Sportzal will be offering a 90 days weight loss challenge, and soon a Health and Wellness Bootcamp will be available with training to fit the customer's particular needs determined through a full body assessment. More information can be found on their website at http://www.sportzalus.com.
Sportzal is located at 390 El Camino Real, Suite J, in Belmont. For more information, call (650) 508-1833; email info(at)sportzalus(dot)com; or, visit their webpage: http://www.sportzalus.com
About Sportzal
Sportzal Corrective Fitness Studio opened its doors in Belmont, the heart of the Bay Area, to offer personalized exercise programs designed to build the body to better withstand a fast paced, active (outdoorsy) or sedentary (techie) lifestyle to Bay Area residents. They offer complete body assessments to all of their clients prior to starting any of their personalized training services.
###