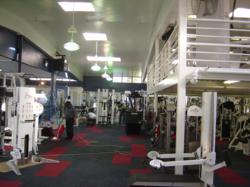 If you need a personal trainer Corte Madera Five Points Fitness can help. We offer well qualified personal trainers able to work with a varied population from young athletes to older adults with health issues and no workout history
Corte Madera, CA (Vocus/PRWEB) July 22, 2011
Five Points Fitness, a full-service fitness center in Corte Madera, is creating a partnership with MedaFit, a medical wellness company, to provide trainer-based small group exercise programs for individuals with medical illnesses.
The partnership is specifically catered for people who have recently been hospitalized for heart disease, cancer and stroke. The partnership also provides a dedicated area for training that allows for an intimate, non-threatening environment for clients. There will be a 12-week program and participants need not be members of Five Points Fitness to take part. Each group will consist of five to ten people and will help improve personal fitness levels through a strength and cardiovascular conditioning program. Five Points Fitness has certified trainers that are also considered clinical exercise specialists.
"If you need a personal trainer Corte Madera Five Points Fitness can help. We offer well qualified personal trainers able to work with a varied population from young athletes to older adults with health issues and no workout history," says Bryan LeFebure of Five Points Fitness.
Conveniently located at the Paradise Shopping Center in Corte Madera, Five Points Fitness is a health center with universal appeal. Five Points Fitness prides itself in being able to offer fitness solutions to meet all needs in a reasonably priced, pleasant and professional environment. Whether it is someone looking to get fit or a seasoned "gym-rat," the nonjudgmental environment appeals to everyone. They offer a personalized service and each personal trainer is held to the highest standard, required to meet specific training criteria and is nationally certified.
For more information on Five Points Fitness and their services, contact Bryan LeFebure at (415) 413-4154 or visit their website at http://www.fivepointsfitness.net. Five Points Fitness is located at 5651 Paradise Drive, Corte Madera, CA 94925.
About Five Points Fitness
Five Points Fitness Corte Madera weight training boasts a newly renovated, 17,000-square-foot split-level facility with a complete selection of modern exercise and strength training equipment, as well as an impressive array of cardiovascular machines (each with an individual television monitor). Five Points is especially proud of its Personal Training program, the key to a successful, sustained and efficient training regimen. Highly affordable, customized programs geared to a variety of fitness goals are available.
They offer health and fitness classes, yoga, mat pilots, spinning, boot camp, and ZUMBA! Special health services include diet consultation with a certified nutritionist, physical therapy and massage.
###