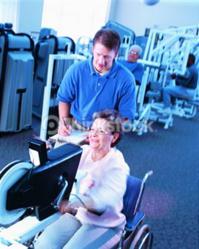 This is a great opportunity to receive an individualized workout from a personal trainer at an affordable rate
Corte Madera, CA (PRWEB) September 30, 2011
Five Points Fitness Center, a full service fitness center in Corte Madera, is offering a fee-based personal trainer for small group training sessions. The personal training session is offered all day and every day on the fitness club's private 2,000-square-foot mezzanine floor, which was specifically designed to serve personal training for small groups. A full line of strength and cardiovascular machines, free weights, and functional training equipment are available for use during the training sessions.
"This is a great opportunity to receive an individualized workout from a personal trainer at an affordable rate," said Bryan LeFebure of Corte Madera's Five Points Fitness. "Better results can be achieved with trainer-directed programs. Workouts continuously change in order to force muscles and cardiovascular system to adapt. Changing programs transfer into less boredom. Working within a group not only makes training more affordable but provides a sense of camaraderie within the group. Trainer directed programs provide direction for clients."
Five Points Fitness caters to individuals looking for a welcoming and upscale fitness center with a personalized service. Each personal trainer is held to the highest standard and is required to meet specific training criteria, such as being nationally certified as a personal trainer.
For more information on Five Points Fitness and their services, contact them at (415) 413-4154 or visit their website at http://www.fivepointsfitness.net. Five Points Fitness is located at 5651 Paradise Drive, Corte Madera, CA 94925.
About Five Points Fitness
Corte Madera's Five Points Fitness boasts a newly renovated, 17,000-square-foot split-level facility with a complete selection of modern exercise and strength training equipment, as well as an impressive array of cardiovascular machines (each with an individual television monitor). Five Points is especially proud of its Personal Training program, the key to a successful, sustained and efficient training regimen. Highly affordable, customized weight training programs geared to a variety of fitness goals are available.
Five Points Fitness offers health and fitness classes, yoga, mat pilots, spinning, boot camp, and ZUMBA! Special health services include diet consultation with a certified nutritionist, physical therapy and massage.
###