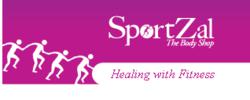 SportZal is a corrective fitness studio. It is different from other fitness centers primarily because at SportZal, all classes are customized specifically for the teen
Belmont, CA (PRWEB) January 20, 2012
According to the National Electronic Injury Surveillance System of the United States Consumer Product Safety Commission, the number of sports-related injuries involving children ages 5 through 14 is 448,200 for football, 574,000 for basketball and 252,665 for baseball. More injuries were recorded in soccer, hockey, gymnastics and volleyball. To help youth with proper training and conditioning, as well as to address an increasing obesity rate in children, SportZal is launching two youth bootcamps for winter/spring 2012.
Many national and international orthopaedic surgeons and societies recommend preventing sports-related injuries with regular conditioning that incorporates exercises that are specifically designed for a sport.
SportZal will offer the following youth bootcamps:
1) Athletic Conditioning Youth Bootcamp, for youth aged 13 to 17. This camp will include an athletic enhancement training, strength and cardio training, core stabilization and flexibility training, speed and agility training, balance and resistance training and more.
2) Youth Fitness Bootcamp, for youth aged 13 to 17. This camp is designed for youth who are just starting their fitness regimen and who simply want to get in shape, build strength and shed a few pounds. This camp will include basic training, cardio and strength training, balance and resistance training, and more.
"SportZal is a corrective fitness studio. It is different from other fitness centers primarily because at SportZal, all classes are customized specifically for the teen. Prior to attending the class your teen will get a full-body assessment to evaluate his or her current fitness level and guaranty a correct placement. After assessment is done, we design a customized program that will suit your teen's needs and fitness goals. Only then will he or she be allowed to start the training," Tatiana Fedorova of SportZal said.
For more information about SportZal, call 650-226-8695, view the company on the web at http://www.sportzalus.com or visit 390 El Camino Real, Suite J, in Belmont.
About SportZal
SportZal is a highly regarded Redwood City and Belmont fitness center that specializes in providing unique and highly individualized corrective fitness services to clients in the San Francisco Bay Area.
In order to help clients achieve and maintain their health and wellness goals, SportZal offers services including personal training, physical therapy, life coaching and post-rehabilitation training. Its ongoing support and encouragement helps clients receive the results they desire, regardless of what format they choose.
###