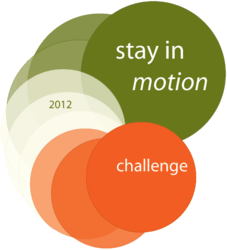 We're doing what we can to make sure members, especially the new ones, don't drop off after February
San Francisco, CA (PRWEB) February 10, 2012
Many people start the new year determined to lose weight, but tend to hit a wall and give up around week three. That's why Pacific Heights Health Club (PHHC) is holding a 12-week fitness contest, the Stay In Motion Challenge, to help people keep their resolutions and become healthier. The contest begins on Monday, February 6 but the last day to sign up is Friday February 10! Winners will receive a gift basket and have the chance to get the grand prize, a treasure trove of giveaways from neighborhood merchants.
"We're doing what we can to make sure members, especially the new ones, don't drop off after February. The challenge participants love the support we're providing and almost all of them have requested that we follow up with them if they don't show up after a week," explains Courtney Jackson, General Manager of PHHC.
The contest allows participants to choose specific tracks to follow, including: lose weight/body fat, build muscle, decrease stress, strengthen core, or improve overall fitness. The challenge includes a 30-minute consultation with a personal trainer and unlimited classes led by trainers. Participants will set goals for cardio and strength training and get the support they need to stick with it.
"I'm definitely doing the challenge again this year," declares Christina Dreyer, CPA, one of the winners of the 2011 Stay In Motion Challenge. "When I did it last year, I consistently worked out at the club 3-4 times a week throughout the tax season and lost 10 pounds...and have kept it off. This year, it's going to be all about balance and managing my stress level."
Challenge winners will receive gift baskets from Pacific Heights Health Club and a chance to win the grand prize: a collection of gifts from nearby merchants including Athleta, Ayla Beauty, Flow Studios, Hlaska, Neal Pressman Bodywork, Out The Door and Vino.
"We want to build a strong sense of community while helping folks get healthy, happy and fit. The challenge has always been a great way for us to get to know our members and find out what matters most to them. This year, partnering with other merchants in the neighborhood to make this happen has helped us take it to the next level," says Amy Lang, Owner of PHHC.
For more information about the Stay In Motion Challenge, visit http://phhcsf.com/stay-in-motion-challenge.htm, call (415) 563-6694, or stop by 2356 Pine Street (between Fillmore and Steiner).
About Pacific Heights Health Club (PHHC)
Pacific Heights Health Club is dedicated to creating healthy lifestyles one person at a time. Here, members can feel comfortable being themselves. They can connect with old friends and make new ones, and they'll see and feel the results of making healthy lifestyle choices. Best of all, they'll discover that fitness happens while they're laughing and having fun.
###