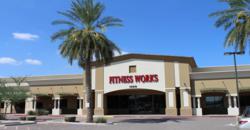 Hydration is Imperative for a Healthy Fitness Regimen and Life.
Mesa, Chandler, Phoenix, Gilbert, Arizona (PRWEB) October 22, 2012
"The effects of dehydration can be profound, but also can subtly diminish everyday life", say's Fitness Works, fitness center in Phoenix. Headaches, decreases consciousness, muscle cramps, muscle weakness, and fatigue are a few of the symptoms that indicate dehydration. With just the loss of 2% of body weight in fluids, can create a compromised cardiovascular system, difficulty in regulating body temperature, a decrease in muscular function and a decrease in aerobic power.
In fact, the heart rate can quickly increase to an additional three, four even five beats a minute for every small percent of lost body fluid.
After intense research, Fitness Works, fitness center in Mesa found the following statements:
According to the National Athletic Trainers' Association, hydration should be:
Pre-exercise (two or three hours prior): 17 to 20 ounces of water or sports drink.
Pre-exercise (15 prior): approx. 7 to as much as 10 ounces sports drink, and or water.
Fitness Works, fitness in Chandler, AZ found research stating that During exercise: One should properly approximate urine and sweet losses, maintaining less than 2% of hydration to body weight. Roughly, that is ingesting seven to 10 ounces of sports drinks and or water per 10 to 2 minutes.
During exercise (if over 45 minutes): If any exercise is intense, the imperative inclusion of carbohydrates in a beverage well achieves electrolyte replacements.
Post-exercise: Get Weighed prior to exercise and after – the difference is fluid loss. Drink 150% of that total within two hours of a workout. Be sure to include sodium—which increases the drive to drink—and carbohydrates—which improves intestinal absorption and replenishes glycogen stores in the muscles and liver.
Consider a water bottle to be just as important a piece of workout gear or running shoes. Keep it filled and keep drinking from it to maintain health and keep the body from being stressed by dehydration. Visit http://www.fitnessworks.com/ for more information.