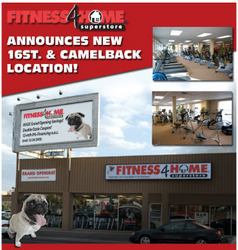 Some people might think it's crazy to expand in a recession - I was one of them until recently
Phoenix, AZ (PRWEB) December 1, 2009
Consumers can now purchase Phoenix fitness equipment from Fitness 4 Home Superstore, Arizona's top-rated fitness dealer by BestFitnessDealers.com. Fitness 4 Home Superstore recently expanded their business by opening a new location at 1577 East Camelback Road, which is at the intersection of 16th St. and Camelback in North Central Phoenix.
This location has been a Phoenix fitness equipment outlet for the past 25 years and is a local landmark. None of the previous occupants however, have offered the pedigree and local ownership of Fitness 4 Home Superstore.
"Some people might think it's crazy to expand in a recession - I was one of them until recently," stated Bob Lachniet, co-owner of Fitness 4 Home Superstore. "But, when you analyze the situation it makes total sense. The typical specialty fitness customer (not all, but typical!) is a baby boomer. As boomers continue to age, the incidence of chronic conditions also increases. Arthritis, obesity, diabetes, and more are things being faced everyday by baby boomers (and the rest of the population for that matter). Yet, as we all know, boomers are not yet ready to retire to the rocking chair."
He continues, "Research and medical studies show time and again that improved fitness and physical activity are the best long term ways to deal with, and minimize symptoms of, many chronic conditions. And, with people saving money that used to go to vacation homes or nice vacations, investing in quality fitness equipment can be a relatively low cost way to pamper one's self (and other family members), all while enjoying the additional benefits of enhanced quality of life."
The newly remodeled space is a true flagship - over 7,000 square feet, it includes a showroom for residential fitness equipment as well as one dedicated to commercial fitness products to support their commercial division. The space also houses an office and a small finished goods warehouse. The Camelback store will compliment Fitness 4 Home's Tempe and Scottsdale Superstores as well as supplement their 8,000 sq. ft. distribution center also located in Tempe.
Fitness 4 Home Superstore, operated by local resident Bob Lachniet, opened their first location in 2004 and is an accredited member of the Better Business Bureau. In addition to being a national top 5 dealer for virtually every major product line they represent, Fitness 4 Home Superstore also carries one of the largest inventories of high quality fitness products in the country. This benefits consumers in that they can get rapid delivery of virtually any product, even those that are hard to find due to their popularity or uniqueness.
While Fitness 4 Home Superstore offers all of the things you would expect from a top flight dealer - including everyday discounts of 10 to 40%, 12 month 0% financing, 30 day money back guarantee, and special on-line Ozzie coupons (named after Bob's pet Pug), the real key to success is his mature, professional sales staff and their total commitment to helping their customer find their optimum fitness/health solution.
As Lachniet states in his company's mission statement, "Our whole premise is to help our customers improve their quality of life, not just for a short term fix, but for the rest of their natural lives. That's why our entire business is based on quality and value of product, level of staff knowledge, ability to dispense sound and easy to understand advice on how to achieve your fitness goals, and most importantly, quality of service."
For more information about buying fitness equipment in Phoenix, or to schedule a personal interview and/or company tour, please contact Bob Lachniet or visit Fitness4HomeSuperstore.com.
About Fitness 4 Home Superstore
Fitness 4 Home Superstore is an Arizona owned and operated specialty dealer that offers award-winning home and commercial fitness equipment, flooring, accessories and outstanding customer service. Fitness 4 Home Superstore is one of the nation's largest dealers of top equipment manufacturers like True, Tuff Stuff, Spirit, PaceMaster, Cybex, DKN Technologies, Ab Coaster, Absolo, Ab Core Jr., PowerBlocks, Hampton, SPRI and more. For more information, please visit Fitness 4 Home Superstore online or stop by one of their three Arizona stores located in Phoenix, Scottsdale and Tempe.
###