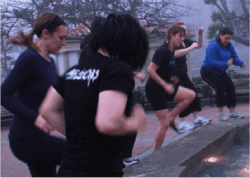 I am very excited to have my own gym
San Francisco, CA (PRWEB) March 01, 2012
San Francisco fitness gym, Polk Street Boxing Gym is offering a free session for beginners, for a limited time. The gym's Beginner Boxing class is the perfect introduction to boxing fundamentals for beginners and newcomers. It covers proper stance, jabs, right crosses, hooks, basic footwork and basic head movement. While not as intense a workout as the gym's other classes, it is an essential starting point for newcomers.
"I am very excited to have my own gym. I look forward to using what I have learned to help people get in the best shape of their lives through boxing and to help any young men who are brave enough to step into the ring to prepare for that task," said Simon Redmond, owner and head trainer at Polk Street Boxing Gym.
To take the free class, newcomers are required to book their first unpaid class online. The gym does not allow walk-ins because it needs a head count on the classes beforehand. Those interested may book through: http://clients.mindbodyonline.com/ASP/home.asp?studioid=18743.
Beginner Boxing classes are scheduled on Mondays at 7:30 p.m., Tuesdays at 7:30 p.m. and Saturdays at 9:00 a.m.
For more information about the free session or any of Polk Street Boxing Gym's services, call 415-529-4329 or view the gym on the web at http://www.polkstreetgym.com. Polk Street Gym is located at 1436 Polk St. in San Francisco.
About Polk Street Boxing Gym
Polk Street Boxing Gym offers classes that combine authentic boxing with intense cardio, ensuring its members receive the most heart-pounding, one-hour workout in San Francisco. Aside from its beginner boxing sessions and other boxing classes, the fitness gym also offers circuit training and a fitness boot camp that is designed to burn weight, boost cardio and learn boxing--all at the same time.
The fitness gym also offers personalized nutrition programs for boot campers through its resident nutritionist, Chanh, owner of Max Muscle on Polk Street.
###