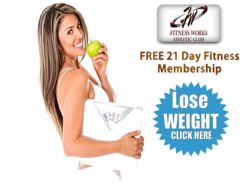 21 Day's of Fitness can break bad habits, and restore a new healthier lifestyle.
Phoenix, AZ (PRWEB) September 17, 2012
Habits that aren't conducive to our health and fitness don't just get established in a day, they are built over time. So, it's not surprising that it can take some time to eliminate habits and replace them with healthier behaviors.
Fitness Works Athletic Clubs are helping Phoenix residents to break their bad habits and put in place good ones by offering a free 21-day Phoenix Fitness Membership to any of their clubs in the metropolitan area.
"Twenty-one days gives people a head start on creating a fitness habit that will have them be healthier and happier," says Fitness Works. "Hopefully, at the end of the trial period they will see that their new fitness habits are paying dividends and will sign up for a full fitness gym membership."
Starting a fitness habit is easy, but keeping it going takes more than willpower. Here are some of the tips the fitness trainers at Fitness Works give to their clients to keep them faithful to their fitness and health.
Variety – Be active in lots of areas you enjoy, and switch it around so it does not get to be a boring rut.
State your goals – Commit to many fitness goals and enlist them in helping achieve those goals.
Exercise first – Any financial manager will say, "pay yourself first if you want to build a nest egg", and it works the same with exercise. Make it a priority, schedule around workouts.
Start with exercise – Begin the day with exercise. Statistics show that those who schedule their workouts toward the end of the day are more apt to skip them.
Exercise tired – Too tired is one of the classic excuses to skip workouts. Push past that feeling, knowing the energized feeling after every workout.
Keep track – There is no telling how things are going with fitness, if there is no tracking of what has been done. Logs the miles, or sets, or classes.
"Creating a new fitness gym habit can take some effort, but the payoff in health and happiness is worth every drop of sweat," says Fitness Works of Phoenix, AZ.