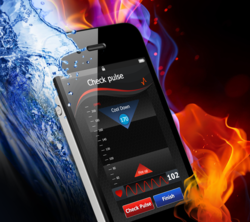 FitPal fitness test helps transform workout into an unforgettable, pleasant experience.
Seattle, WA (PRWEB) September 26, 2012
Both beginners and well-trained athletes were surprised to realize that their fitness training should be adjusted per FitPal's recommendations "Fire Up!" or "Cool down!" After completion of FitPal's fitness test users were put between fire and water to balance their fitness workout with the right amount of exercise intensity to improve fitness performance and reduce risks of heart disease.
Most of the people used to go to gym or have an outdoor exercise at a certain time and follow a certain fitness plan and diet. From time to time a personal trainer brings a breath of fresh air in a boring schedule by introducing few new exercises and some tips for fitness improvement. Most of these people were surprised to see FitPal iPhone App diagnosed them with undertraining with little or no result in fitness performance.
Fitness professionals often spend 7 days a week in training facilities and later get an overtraining syndrome. It's not a secret that only a hard work can make a significant performance improvement. However, training with wrong intensity and rest intervals makes body and heart weaker, not stronger. Continuously making such mistakes professionals finish their fitness career early with various health issues caused by overtraining.
A significant effort has been put into education around fitness; many fitness assessment tools were developed. However, the assessments still remain too complex, expensive, and time-consuming. Some fitness assessment tools are not so practical for a daily use – it will exhaust athlete and significantly impact the following training, and some assessments that shall be taken in between the exercises take more time than the recommended rest interval. So, fitness enthusiasts have been put in risk of figuring out how to exercise on their own.
Biocom Technologies invited leading specialists from USA, Japan and Europe to help build a simple to use tool for instant fitness assessment. The result of their work is called FitPal which is a fitness application for iPhone users released in August 2012 in Apple App Store. FitPal fitness test uses phone back camera with flashlight for heart rate monitoring and does not require any additional hardware.
"We're excited to get feedback from users on how easy FitPal fitness test is, how useful and actionable is information in the report," explains Alexander Bandarchuk, VP of Engineering for Biocom Technologies. "Athletes reported many cases of overtraining detected by FitPal while majority of regular fitness club visitors reported undertraining. FitPal's 'Fire Up' or 'Cool Down' – those two simple statements help people reach their best muscular and cardiovascular performance, make progress faster and avoid overtraining."
Biocom Technologies was founded in 1996 by medical doctors who possess software engineering skills. Biocom focuses on innovations in biomedical technologies and heart rate variability to monitor human physiology and assess health. Since 1998 the company's products have been used by more than 50 academic organizations around the world. The company sponsors educational and research programs in 13 Universities in the USA and Europe, and is currently involved in several international projects related to medical and biomedical research.