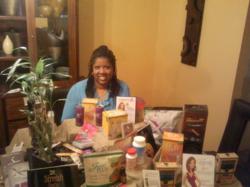 "People like me look at videos being advertised and say to ourselves, 'I can't jump up and down like that,' or 'I can't do this' and we just give up. "- Author Denise L. Jackson
Charlotte, NC (PRWEB) November 30, 2011
Sedentary jobs, obesity, chronic pain, and even lack of motivation make it difficult for many to engage in popular and often high-intensity workouts. The upcoming book, All About Me Fitness! by author Denise L. Jackson, offers an array of unique and creative exercise options that can be mixed and matched to create a customized fitness plan. The book will be released on Dec. 13 and a portion of the proceeds will go to the charities Toys for Tots and Feeding America.
Jackson, a Certified Life Coach and mentor, found herself in a successful but sedentary career. With her busy schedule as an office worker and home-based entrepreneur, and dealing with the health effects of three fibroid tumors, Denise knew that popular, high intensity exercise videos and programs were not an option. She says, "I knew I wasn't the only one wanting exercises that fit my schedule and needs, so I started researching alternatives. I wrote All About Me Fitness! to share the exciting options I found for people like me that need something different."
Jackson recognizes how difficult it can be for many to embrace popular exercise programs. She comments, "I think one of the reasons we have such a high obesity rate in this country is because people like me look at videos being advertised and we say to ourselves, 'I can't jump up and down like that,' or 'I can't do this' and we just give up. We don't ask our health care provider if he/she knows of a trainer who has created a program for a person going through chemo or a routine for someone recovering from a shoulder injury." A running theme in All About Me! Fitness is that different things work for different people, whether it's using a mini can of oxygen for an energy boost, juggling, or hypnosis, just a few of the interesting choices discussed in the book.
The book's release will coincide with the "I Fed an American Today" event, which will run from Dec. 12-16. During this time, those who have donated through a book purchase or cash donation are encouraged to wear a small piece of grocery bag on their clothing to raise awareness of hungry families in need and encourage others to donate.
All About Me Fitness! will be available in softcover through Amazon and the allaboutmefitness.com website beginning December 13th, and will retail for $14.95.
About Denise L. Jackson
Denise L. Jackson is a Certified Life/Career Coach and a Certified Green Consultant. She is the founder of Enhance My Skills, an e-mentoring/e-coaching online company preparing teens and young adults for the marketplace. She is the author of the Mo-Active Learning Series, a series of workbooks that combines motivation, activation and skills building, and Bringing Sexy to Green! , a book about careers in the green market. Denise also has a heart for the environment and offers high schools, workforce agencies, training centers and nonprofits Certified Entry Level Green Jobs Training. For more information about Denise, visit http://www.deniseljackson.com.
###