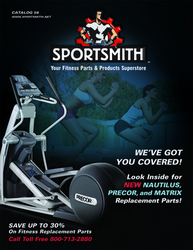 Tulsa, OK (PRWEB) October 21, 2009
SPORTSMITH™ is proud to announce the release of the 2009 SPORTSMITH™ Fall Edition catalog , featuring new replacement parts for Nautilus®, Precor® and Matrix® lines of fitness equipment.
New parts line up for Matrix® brand includes three models, the T3x Treadmill, T3xi Treadmill and T5x Treadmill. The most popular parts include the treadmill running belts, rollers, treadmill decks and more.
The Precor® brand includes new replacement parts for the elliptical EFX C576i, Elliptical Amt C100i and treadmill model C966i.
The Nautilus® brand includes replacement parts for Treadmill T912, Treadmill T914, Treadmill T916, and the Nautilus® TreadClimber.
Each catalog is packed full of Maintenance Charts, Equipment Diagrams, Fitness Equipment Parts, Fitness Products and Maintenance Information for the most popular brands of fitness equipment including Life Fitness®, Star Trac®, StairMaster®, Schwinn®, Precor®, Landice® and many others.
The SPORTSMITH™ Fall Edition Catalog further offers expanded selections of Sports Performance Training items including Agility Dots, Agility Domes, Mini Hurdles, Agility Ladders, Lateral Power Trainer and New CrossFit® Training Equipment including the Trx® Suspension Trainer.
Functional training items include Balance & Stability, Exercise Mats, Speed & Agility, Sports Specific Training, Fitness Assessment, Audio Accessories, Resistance Tubing & Bands, Weighted Resistance and more.
SPORTSMITH Indoor Cycling Products include parts for Schwinn®, Star Trac V2™, V-Bike™ and RevMaster™.
Innovative strength training products feature Cybex® Classic and VR2 Upholstered Pads, Cable Attachment Bars, Hardware and Accessories, Kettlebells, Dumbbells, Racks and International Bars.
A variety of the most popular group exercise products include Polar® Heart Rate Monitors, SportStep®, the Original Health Club Step™, SPORTSMITH™ Resistance Bands, Medicine and Stability Balls, Yoga and Exercise Mats.
"The SPORTSMITH™ mission is to supply the most popular fitness equipment parts, and personal training products in the fitness industry with the benefits of hassle-free customer service, 24/7 online ordering, express same-day shipments and Best Price Guarantee," reported Brad Schupp, President.
All SPORTSMITH™ fitness equipment parts meet or exceed OEM specifications and include the full SPORTSMITH™ warranty.
All brands are trademarks of their respective manufacturers.
Call 800-713-2880 to request a free catalog by mail.
Phone: 800-713-2880
International 918-307-2446
Email: info @ sportsmith.net
Web: http://www.sportsmith.net
###