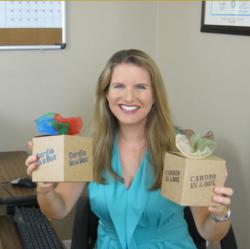 I wanted to design something that would look great on a desk and not take up too much space."
- Heather Wolf, ACE-Certified Trainer
Gulf Breeze, FL (PRWEB) July 26, 2011
While lack of physical activity often seems like a necessary evil of the workday, recent studies on the dangers of sitting have pointed to the need for affordable office fitness solutions. ACE-certified trainer Heather Wolf aims to make in-office fitness the norm with a new office desktop fitness accessory, Cardio in a Box, which was released today.
Heather never expected to design her next fitness product based on a tissue box. She recalls, "I knew I wanted to make office exercise affordable and easily accessible, but I also wanted to design something that would look great on a desk and not take up too much space." Heather has been using fabric 'Fitness Squares', for years as fitness equipment during her workday. She uses them in arm movements and throws them in different patterns, such as an overhead throw combined with a squat, tracing a figure eight pattern, or combining throws and punches. While brainstorming with a friend on how to make the squares more desk-friendly, he suggested stuffing them into a tissue-style box so they would pop-up out of the top. "I immediately fell in love with the idea," says Heather. "It looked so inviting and gave me the feeling I had flowers on my desk all the time. And the name just came to me – Cardio in a Box."
Heather created a prototype and placed it on her desk at work, and that's when the comments started rolling in. "People kept asking what it was and saying that it looked really cute on the desk. I was convinced that I should develop this product as an office fitness accessory." One co-worker suggested a version that would appeal more to men, with Fitness Squares in camouflage colors and a traditional army font on the box. So Heather decided to offer a 'camo' style Cardio in a Box which is reminiscent of boot camp. She adds, "This gives workers a choice of a cute or serious desk accessory while maintaining the inviting, 'gotta grab it' look of the pop-up dispenser."
The recent popularity of treadmill desks and office workout kits points to people's desire for activity during the workday, but the cost of such equipment makes it out of reach for many. "People are looking for easy and affordable ways to be active during the workday without breaking out in a full sweat," says Heather. She designed Cardio in a Box to provide light yet effective exercises, some that can even be done while on the phone or watching a webinar. She points out, "moving in different ways throughout the day is an energy booster and stress buster that benefits both employees and employers."
Cardio in a Box contains a set of three Fitness Squares™, the tissue box-inspired pop-up dispenser, an instruction booklet with exercises, and a link to online demonstrations easily viewed from an office computer or smart phone. It retails for $12.95 and is available online at http://cardioinabox.com and on Facebook at http://www.facebook.com/cardioinabox, where Facebook users can get a discount by 'Liking' the product.
About Heather Wolf
Heather Wolf is certified by the American Council on Exercise as a personal trainer and group fitness instructor and is the founder of JuggleFit LLC. She has appeared on television shows such as Fox & Friends and CBS Atlanta Better Mornings demonstrating juggling for fitness and discussing easy ways to fit exercise into a busy lifestyle. Heather is available for interviews and demonstrations of office fitness. For more information about Heather Wolf and JuggleFit LLC visit http://cardioinabox.com/media.
###