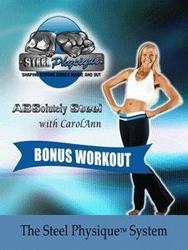 She's comfortable on-camera and has a quick wit that goes over well during interviews.
Tampa, Fla. (Vocus) September 13, 2007
Tampa-based ThePublicityAgency.com added a veteran fitness expert to its roster of premier clients, the company announced today.
CarolAnn from Tampa has an impressive resume: 18 years of professional fitness training experience, a Master's degree in Exercise Science and Health Promotion, and CEC provider status with AFAA and ACE. She's also appeared in numerous exercise videos and DVDs.
"Being fit is important to almost everyone and there is no one who knows more about accomplishing weight and fitness goals than CarolAnn," says Glenn Selig, publicity agent and founder of ThePublicityAgency.com. "She's got the look. She's got the talent. And she has the energy to motivate the masses."
ThePublicityAgency.com will aggressively market fitness expert CarolAnn to the news media beginning with the Tampa-area media and then expanding to the nation.
Selig says CarolAnn is the perfect morning show or midday guest. "She's comfortable on-camera and has a quick wit that goes over well during interviews."
CarolAnn recently developed the Steel-Physique workout system. The unique DVD program adds weight training to both Pilates and yoga.
ThePublicityAgency.com: The PublicityAgency.com is run by Glenn Selig, a former TV reporter and anchor who's now harnessing his talents to help individuals and businesses gain free publicity. It's the sister site to PressReleasePros.com which writes and distributes press releases for clients.
Contact: Glenn Selig, ThePublicityAgency.com
Email: glenn @ thepublicityagency.com
Phone: (813) 300-5454
Website: http://www.ThePublicityAgency.com
This press release was issued through PRNewsChannel.com. For more information, please visit http://www.PRNewschannel.com.
###