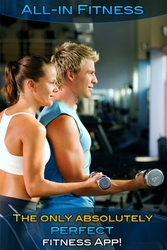 Miami, FL (Vocus) July 12, 2010

(Vocus) July 12, 2010 -- Viaden Mobile announces the release of All-in Fitness, an A to Z fitness app for iPhone/iPod Touch that is expected to revolutionize the Health and Fitness category. The developer encourages users to take an individualized reasonable approach to fitness and dovetail their workout routines into their everyday schedules.
Viaden Mobile focused on the people with different attitude to and experience of fitness. Giving everyone what they need, the company sustains an intellectual approach to fitness for the best possible results. For newbies it means no more fruitless sessions in gyms without any proper idea of what needs to be done. For pros – a chance to generate their own routines, fitting their own aims. And for intermediate athletes – the perfect way to move forward without stagnation.
Keeping in mind that different people have different needs, Viaden Mobile utilized a personal trainer concept in the app. Having submitted their personal parameters, users get a workout routine that matches their abilities and goals. Besides, a special option gives users a chance to ask questions about their routines and progress.
All-in Fitness app's efficiency rests on the three basic principles: individuality, progress monitoring and consistency.

Individuality: All-in Fitness offers several modes of choosing a perfect fitness routine to fit a specific goal. Users can select one of the many ready-made workouts, submit their parameters and have a workout tailored for them or create their own workout.
Progress monitoring: All-in Fitness features extra tools for monitoring body parameter and calorie gain/loss progress to ensure a better overall perspective of a user's workout routine.
Consistency: All-in Fitness allows users to customize their workout regimes, alter the number of sets and reps, change the used weights etc thus making it possible to avoid plateaus and secure consistency in exercising.
The app may seem complicated at first sight. Actually it's quite easy to master given the user-friendly interface and intuitive layout. The variety of tools and options are simply accessible, each serving an important role in a fitness routine.
"A lot of people do not succeed in fitness as much as they can because they have no idea of the proper approach to exercise and workout routine even though their physical abilities may be far above average. We tried to accumulate all the info and extra options necessary for fitness enthusiasts in one app to show users that everything is in their hands. You just need the right tools and good guidance. Our app provides both," stresses Yuri Gurski, the head of Viaden Mobile.
All-in Fitness is now available on the App Store for $2.99
About Viaden Mobile
Viaden Mobile is an acknowledged producer of applications for iPhone/iPod Touch, iPad and other platforms. Its apps are among the most popular in the Health and Fitness and Casino categories.
###