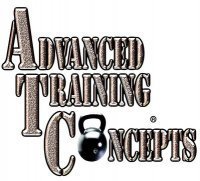 I wanted to introduce different concepts of training on the level of professional athletes that the average person could achieve
Charlotte, NC (PRWEB) September 26, 2009
Advanced Training Concepts (ATC) opens innovative fitness studio this October in the propitious Southpark Neighborhood of Charlotte. The new location will facilitate new and established members of Cyrus Peterson's tremendously successful fitness program, known as KettleHell BootKamp (KHBK), while offering improved services including additional classes, gym memberships, and personal training. The 3,000 square foot studio, located at 1607 Montford Drive Suite F, will have 1000 square feet of matted area devoted to KettleHell BootKamp classes and a fully-equipped gym, including a cardio equipment, a free motion multi-functional resistance trainer, benches, Olympic plates, and over 60 Kettlebells ranging from 10-106 lbs. The Studio will be open to the public through October 17th offering introductory specials and consultations to interested parties. A new member class will be held on October 3rd at 10:00 a.m. Pre-registration for this course can be done on the website by October 1, 2009.
KettleHell BootKamp Members in action
Kettlebell training has swept the fitness world from coast to coast but has yet to find its place in Charlotte. Although conceptually new, the Kettlebell, a Russian-made cast-iron weight, has been around for over 300 years and was used in old world strongman competitions. Cyrus Peterson, owner and operator of ATC and Certified Kettlebell Instructor, began KettleHell BootKamp in April 2009 bringing this highly-effective training method to the progressive Charlotte audience.
"I wanted to introduce different concepts of training on the level of professional athletes that the average person could achieve," says Peterson. Kettlebell training, utilized by professionals like Lance Armstrong and the NFL, builds lean muscle, reduces body fat, and builds functional strength, speed, agility, flexibility, endurance, and coordination. In conjunction with KHBK, ATC provides dietitian-designed personalized meal planning, body fat and circumference measurements, monthly newsletters, and online training programs to provide a professionally designed guide to achieving individual goals.
"Within a 20 minute workout you can build muscle, burn fat, increase flexibility, increase tendon and ligament strength to prevent or rehabilitate injury, increase your VO2 max [volume of oxygen you can consume while exercising at your maximum capacity], as well as maximize speed and explosive strength. Kettlebells train the entire body in multiple planes of motion in ways that conventional weightlifting and machines cannot. The dynamic, ballistic and unstable nature of Kettlebell lifting demands total body involvement as well as complete mental focus. The core and the posterior chain are intensely engaged through Kettlebell lifting burning as much as 15 calories per minute. The benefits of Kettlebell training with proper form, under professional guidance are amazing. Virtually all of life's day to day activities are enhanced significantly," states Peterson, ATC.
For testimonials and more information on KettleHell BootKamp or any other service provided by Advanced Training Concepts contact Cyrus Peterson or visit Advanced Training Concepts Website.
###