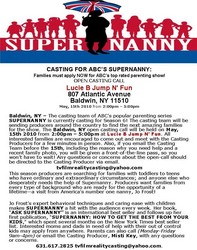 Lucie B's Jump N Fun! Stomping out Childhood Obesity...One Jump At a Time!
Baldwin, New York (PRWEB) April 30, 2010
Lucie B's Jump N Fun has relocated from Woodmere to Baldwin.
The Grand Opening at Lucie B's Jump N Fun Jump Rope Gym in BALDWIN will be on Saturday May 15th and Sunday May 16th from 2 to 6PM. All are welcome. Come on Down and Have a Jumping Great Time.
SUPERNANNY will be doing open an open casting call at Lucie B's Jump N Fun; Theyre looking for interesting and unique kids/families for season 6.
Lucie B's Jump N Fun--Long Island and New York's First and Only Jump Rope Gym For Kids (and Adults) is relocating from Woodmere to Baldwin in May! This unique program gets kids and Adults in insanely awesome cardiovascular shape while having a Blast. The highly specialized Jump Rope program focuses on the art and Sport of Jump Rope while getting in incredible shape. Jump Rope is so much Fun! From Single Rope, Long Rope to Double Dutch, Lucie B's Jump Rope Programs are cardio/strength specific, geared toward getting kids in phenomenal shape.
Owners, Lucie B and Dion T are Professional Jump Ropers and USA JUMP ROPE Regional and National Jump Rope Champions and have transformed hundreds of kids into Jump Rope Athletes and Superstars. For those Kids and Adults who have mastered the freestyle and speed programs--the next challenge is qualifying for the Rock-It-Ropers Jump Rope Team. Lucie B's Jump N Fun Fitness program is the answer to Michelle Obama's initiative to get KIDS MOVING! We are the Jump Rope Professionals that will get your Kids Fit, Healthy and Fabulous! Accept No Imitations out there; We're the real Deal!
We do expect to have alot of people at our Grand Opening, So come early; we'd love to see you all. Expect nothing but Fun, Warmth, Love and Positive Energy at Lucie B's Jump N Fun. Girls, Boys, Young and Old are all welcome!
We're looking forward to meeting new and enthusiastic jumpers in Baldwin.
# # #