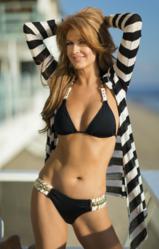 Honesty is the best policy, especially in regards to health and fitness.
Malibu, CA (PRWEB) June 24, 2013
Svelte bodies, tanned figures, healthy athleticism, most often seen in films is mostly fiction, or is it? Kimberly Friedmutter, hypnotist and life manager to Hollywood A-list clientele explains what happens when average Jane and average Joe go 'off the grid' and onto the griddle.
Most have seen the health reports, read books on diet and exercise and most still choose to evolve into a bigger and bigger version of themselves. "It's not that people don't care about their health but that people are lying to themselves more often. The truth is, people want to care but still don't lose the weight." says Friedmutter. But why, one might ask. She concludes "the answer is simple, people make friends with their fat."
According to Center for Disease Control reports U.S. adults rated as (35.7%) obese. U.S. residents in the South had the highest prevalence of obesity (29.5%), followed by the Midwest (29.0%), the Northeast (25.3%) and the West (24.3%).
Lying to ourselves feels harmless; or is it? "Most definitely harmful," according Friedmutter, who has outlined the three most dangerous lies people are telling themselves and keeping them fat.
Fat Lie #1
Physical survival doesn't depend on it.
Primal fat was rarely experienced because of the need to hunt, perform activities and escape from predatory beasts. Instead of lions, tigers and bears (oh my!) people are now literally running from heart attacks, diabetes and stroke.
Fat Lie #2
Financial survival doesn't depend on it.
People who are obese may have a paycheck that's lean. Female employees are reported to earn approximately 6.2% less than their thinner colleagues. Men also reportedly tipped the scales out of favor by earning 2.5% less than thinner employees. When times are good and most are working, the competitive edge is less critical than in recent years.
Fat Lie #3
Emotional survival doesn't depend on it
If happiness is linked to a mate, chew on this. Recent polls indicate that half of men surveyed indicated they would leave their heavy weight mate while only 20% of women reported the same.
The truth is, In the constant search for happiness, there are many things that reside beyond ones control but eating and exercise are generally not included. Satisfaction comes easiest by doing what is believed to be 'right'. When one strays from their deepest beliefs about fitness, they sell themselves short, cycling into a belief that they don't measure up, which is another lie. One literally tries to measure up by packing on gratuitous pounds, therefore fulfilling and physically realizing the deep belief that they are a failure.
"Fitness is habitual, get into the habit and the habit will get into you." advises Friedmutter. "People have 'toward' and 'away from' responses to stimulus. Relating to weight, they are either excited to be fit (toward response) or afraid to be fat (away from response) regardless, use enthusiasm or fear to get up and get fit."
Fitness lies are a growing habit, however, summer is here and that's the truth.
Kimberly Friedmutter is a world renown hypnotist and celebrity life management expert. She is currently developing the Friedmutter Holistic Life Center in the Bahamas. American Board of Hypnotherapy, Certified Master Hypnotist, Association for Integrative Psychology, American Board of Neuro-Linguistic Programming, Certified NLP Trainer, Certified Master Practitioner, International Hypnosis Federation, Spiritual Counselor Specialist, Medical and Dental Specialist, Researcher Division Registered Member, Coaching Division Registered Member, Association for Integrative Psychology.
For more information visit http://www.kimberlyfriedmutter.com.