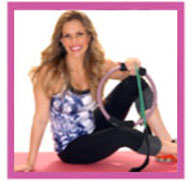 Having fun while working out effectively is what works…and you don't even have to leave the comfort of your home.
Fort Lauderdale, FL (PRWEB) September 11, 2012
International fitness professional, author and mother of two, Adriana Martin is celebrating her win and "Achievement Award" for helping Rosa Gordon conquer an astonishing 50 lb weight loss on "The Balancing Act's" A Lifetime of Health and Wellness Makeover which recently aired on Lifetime TV.
Adriana, a fitness expert and international wellness dynamo is celebrating her win by motivating the nation to do what her reality weight loss client did: follow Adriana's creative, fun and highly effective weight loss training system to finally claim the body of their dreams.
For more information on Adriana Martin's dynamic and successful training methods, please visit: http://www.adrianamartin.com.
Adriana Martin is the expert, master-mind behind the ultimate weight loss system that has helped thousands of women like Rosa Gordon – reality star for The Balancing Act's "Health and Weight Loss Makeover" – lose over 50lbs in less than six months confirming, once again, her well deserved title of "Best International Fitness Trainer."
Fun, creative and results-driven, are what makes Adriana's weight loss system unique and award winning. "Having fun while working out effectively is what works, and you don't even have to leave the comfort of your home" says Adriana. "Your body doesn't know the difference between training at the gym or in your living room; what matters is to focus on execution and enjoy the process." Adriana Martin's revolutionary approach to fitness and weight loss is what makes her such a popular fitness celebrity and sought after weight loss expert. As an author, a bilingual fitness guru, mother of two and "MOMpreneur," Adriana has taken the fitness world by storm all while helping the entire nation, and countries worldwide, get healthier and sexier!
Watch Adriana Martin every week on "Tu Desayuno Alegre" on Univision, The Balancing Act on Lifetime TV, listen to her weekly on La Nueva 88.3FM and read her articles on this issue of "Balance Your Life" magazine.
Get Top Adriana Martin Fit Tips and Motivation at: http://www.adrianamartin.com
For interviews, media appearances and more, contact: silvia(at)martindigitalgroup(dot)com or 954-292-4105