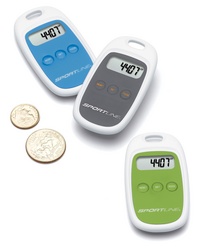 Our goal is to deliver products that best integrate with the active lifestyles of health and fitness-minded consumers
YONKERS, N.Y. (PRWEB) October 16, 2008
Measuring approximately half the size of a credit card and only three millimeters in thickness, ShrinQ features cutting-edge technology that, unlike common hip-worn pedometers, will function accurately in multiple positions.
This innovative approach, combined with sleek design, allows the ShrinQ to go virtually unnoticed, yet still track and measure an individual's steps, distance and calories burned discreetly throughout the day.
"Our goal is to deliver products that best integrate with the active lifestyles of health and fitness-minded consumers," said Dan Kinsbourne, vice president of marketing for Sportline. "With ShrinQ we have designed a discreet yet effective fitness monitoring tool that will help individuals gauge their level of activity throughout the day."
As the world's smallest pedometer, ShrinQ features Sportline's unique Digital Motion Sensor technology, which allows the pedometer to accurately measure body movement, including steps taken, calories burned, and distance traveled, from multiple orientations.
Available for $29.99 in three colors - green, blue and gray - the ShrinQ is now available for purchase at sportline.com, as well as a variety of sporting goods retailers throughout the country.
SHRINQ PEDOMETER PRODUCT CAPABILITIES
World's smallest pocket pedometer No need to clip waistband or belt Digital motion sensor (not pendulum based) Accurately tracks steps and distance Accurately calculates calories burned Functions in both English and metric standards SHRINQ POCKET PEDOMETER PRICING & AVAILABILITY:
Available in three colors - blue, green and gray - the ShrinQ is available for $29.99 at Sportline.com and at a variety of sporting goods retailers throughout the country.
ABOUT SPORTLINE, INC:
Sportline is the performance brand leader in Personal Fitness Monitors (PFMs). Sportline products are designed to accurately measure and monitor exercise goals, instill personal motivation, increase safety and bring greater enjoyment to all levels of health and fitness enthusiasts. The company offers a comprehensive assortment of multi-functional pedometers, sport timers, heart-rate watches and hydration monitors. Sportline is the brand behind One-Touch Heart Rate technology and the revolutionary HydraCoach Intelligent Water Bottle. Sportline also delivers a complete range of fitness gear designed for storage, safety and portable music needs.
Keyword Tags: health, fitness, pedometer, women's fitness, work out, walk, run, new product, product, sportline, shrinQ, pocket, small, exercise
MULTIMEDIA GALLERY http://www.businesswire.com/cgi-bin/mmg.cgi?eid=5805194