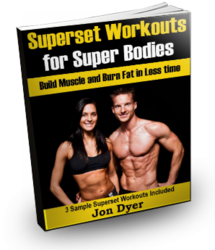 (PRWEB) May 02, 2013
On April 30, 2013 the Fitness Baron website announced that it's making the highly popular workout guide about superset workouts called "Superset Workouts for Super Bodies" available for download on the Fitness Baron Facebook page.
About the book
Superset Workouts for Super Bodies is a comprehensive book on superset workouts. The premise is that supersets are a terrific way to work your body hard, build lean muscle and save time.
The book offers up many types of exercises that can be combined including different muscle exercises, bodyweight exercises, yoga, circuit training and cardio. When combining different exercises without rest, workouts are more efficient and heart rate remains high throughout the workout.
While the bulk of the book discusses different types of resistance training supersets such as same-muscle and different muscle combinations, it also provides discussion on incorporating a variety of non-weightlifting exercises into supersets.
The book includes an appendix of 3 complete superset workouts to get you started immediately.
Download this book for free at https://www.facebook.com/FitnessBaron/app_190322544333196.