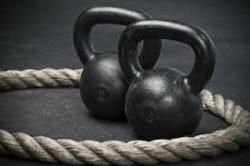 Logic will get you from A to B. Imagination will take you everywhere. - Albert Einstein
Chino Hills, CA (PRWEB) October 01, 2012
Fitness business legend, "7-Figure" Sam Bakhtiar, is well-known for his Las Vegas mastermind retreats. However, his latest mastermind took place in San Diego and fitness business owner Callie Durbrow says she has learned many helpful pointers on elevating her group training business and separating herself from the other boot camps in her area.
"Sam taught me that you can charge more money for small group training because it's still less expensive than the one-on-one training people are used to. So my hourly rate can be somewhere in the $200-$300 range," she says. "He also taught me that it's all about providing more value than the average local gym. By creating a 'tribe' and making my clients feel special and supported, I can generate more referrals." Callie added that she left the mastermind with countless ideas for improving her business value. She plans to throw appreciation parties, create fun contests with prizes to drive bigger and better results, send out cards to make each individual feel valued, and get more involved on Facebook.
At Sam's San Diego mastermind, he also recommended keeping groups small – between 8 and 12. That way, clients are encouraged to form a bond with their fellow trainees and begin to feel like they don't want to miss out on what everyone else is doing. Also, it's easier to know each client by name and scale the workouts to a person's individual fitness level.
Clients should be given an amazing experience both in and out of the gym. They should feel energized and more confident after a good workout. In addition to the regular sessions, training studio owners should throw appreciation parties, organize 5-K run teams, feature contests, and give shout-outs to people who are meeting their goals. Giving out water bottles, studio-specific "Livestrong" style bracelets, gym bags, and other promotional items makes members feel valued as well.
Giving away complementary services like supplements, nutrition coaching, and learning seminars will boost the value of a training studio too. "Remember, if you're not giving away the full package, there is another local fitness business that is," Sam tells his group. "The landscape has become more competitive over the years, so you need to do a little bit more to keep pace."
Lastly, tracking progress and results is critical. Assessing inches, body fat and weight every six weeks – and taking progress photos – is a great way to create testimonial narratives and make members feel more motivated to continue their success.
For more information on "7 Figure" Sam Bakhtiar's incredible mastermind seminars that bring together the industry's most respected fitness business millionaires, visit http://www.Super-Trainer.com or contact Sam directly.
About Sam Bakhtiar
Sam Bakhtiar is a Persian-born American with over twenty years of experience in fitness training and body building. After completing B.S in Premed and Nutrition, Sam also received a degree of doctorate of Chiropractics. Along with being one of the best fitness trainers, Sam is also a business and marketing expert. After establishing a successful fitness training business with substantial income, Sam is helping other professionals in the industry to achieve their business goals. For more information, please contact using the following information.
Contact Information:
Sam Bakhtiar
Fitness Concepts
909-393-9075
http://www.super-trainer.com