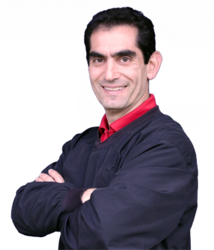 Fitness should and can enhance quality of life during all stages of life
Poway, CA (PRWEB) July 26, 2012
"All the hype and misinformation surrounding weight loss and fitness is leaving people sicker, weaker and with more pain than ever," says Dadsetan, a San Diego fitness trainer. "Fitness should and can enhance quality of life during all stages of life and not just through the next bikini season, wedding or reunion."
X5 Fitness Camp metabolic training classes are designed to improve clients' ability to convert food to muscle and energy instead of storing it as fat. At X5 fitness camp, clients progress through the following five components of physical fitness:
1.Increasing muscular strength
2.Increasing muscular endurance
3.Improving cardio-respiratory fitness
4.Increasing flexibility
5.Improving body composition by increasing muscle mass and fat loss
"Most clients who come to me for weight loss ask why fat loss is number 5 on the list," says Dadsetan. "They need the ability to engage their large muscle groups over a complete range of motion quickly to burn a lot of calories fast and create an oxygen deficit that lasts for hours after they stop working out. That type of motion requires muscle strength, healthy joints, ligaments and tendons. This is why I emphasize building strength as the first step which happens with slow motions within clients' ability and appropriate loads to match clients' strength."
X5 Fitness Camp metabolic training classes are limited to only 10 clients per session. The small class size helps ensure that every client receives the attention required for performance and safety. The participation process begins with an orientation to evaluate fitness level, individual muscle and functional imbalances, and joint mobility.
"Metabolic training can produce amazing results, "according to Dadsetan. "However, most of my clients come to me with pre-existing conditions like shoulder, low back or knee pain caused by either a muscular imbalance or a functional imbalance. I need to customize movements to work with any possible weaknesses these imbalances cause so that clients progress at their own pace. "
Dadsetan guarantees that clients would see visible and tangible results by the end of his metabolic training course, or they receive a full refund.
X5 Fitness' fifth principle is Kaizen – Continuous and gradual improvement that includes change and goodness or virtue. Metabolic training at X5 fitness camp follows this principle by matching the exercise to clients' level of fitness. Each planned exercise has up to five levels covering beginner to advanced fitness levels.
"Fitness is to improve the quality of life over a life time," explains Dadsetan. "With over thirty years of experience in fitness, careful planning and attention to details, I know that some clients should not engage in metabolic training, and I let them know that right away. After all, the body they own is the only one they have, at least for now, and I need to help them keep it healthy, vibrant, lean and strong."
For more information on metabolic training visit http://x5fitnesscamp.com/ or contact Vishy Dadsetan at (877) 348-6873. Limited spots are available and all applicants will be considered on a first-come, first-serve basis.