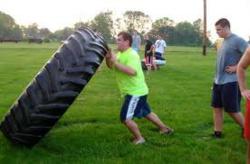 Every artist was first an amateur. ~ Ralph Waldo Emerson
Chino Hills, CA (PRWEB) January 04, 2012
Launching his new Personal Trainer Marketing blog at Super-Trainer.com, the blog is aimed at personal trainers who want to get more clients, as well as personal trainer marketing and boot camp marketing professionals wanting to boost their business as well as their finances.
Sam, known in the business as '7FigureSam' certainly proved that he makes the cut when it comes to change. Having originally spent over sixty hours each week trying to build his business – and almost killing himself with stress in the process – he finally decided it was time to make a change. Sam now enjoys annual revenues of over $2.4 million, as well as all of the time with his family that he wants.
Through a series of informative articles, educational resources and inspiring guest posts, Sam's new blog aims to teach others to do the same thing.
Financial freedom is within the grasp of anyone. However, as Sam points out, it won't come easily:
"Yes, my blog will show you the ropes, but you still have to climb them yourself," explains Sam. He continues, "Just like a good and hard session at the gym, you won't get results without the blood, sweat and tears that it takes to build your own business empire. But, when you get there – just like reaching your target weight – you'll know that the long road was worth every step."
The focus of the blog is on setting up your business so that you run it – not the other way around. The theme of a healthy work/life balance runs throughout each of Sam's posts. Everything is presented in a straight-to-the-point, upfront manner.
"There's no use skirting around the edges when it comes to this kind of serious change. Personal trainers spend their whole careers telling people to 'just do it' – so now it's time for them to have a taste of their own medicine," Sam says.
The blog's initial users are reporting excellent results. Judging by Sam's experience, business acumen and drive to help others – it could be the personal trainer marketing lifeline that any fitness or business professional needs.
About Sam and 'Personal Trainer Marketing'
Sam aims to use his experience to help others beat the competition through his new personal trainer marketing blog. By sharing his first-hand experiences and knowledge, Sam will encourage others to learn how to find the perfect balance between work and family, while steadily growing their own Fitness Marketing business.
# # #