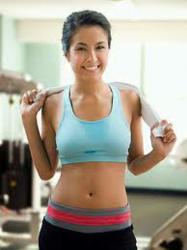 Greatness lies not in being strong, but in the right use of strength. ~ Henry Ward Beecher
Chino Hills, CA (PRWEB) January 11, 2012
The New Year brings introspective thoughts to the minds of all Americans. Personal trainers may be asking themselves, "Am I doing all I can for my fitness marketing? Have I invested in my education and developed automated systems to make my life easier?" No one likes the rat race of working 60 hours of week for low wages and wondering how they'll pay the bills each month.
Sam Bakhtiar is a self-made millionaire who works in the trenches of personal training – not because he has to, but because he loves to. He spends more time with his wife and daughter, truly enjoying life now that he has a handle on fitness marketing techniques that work. "At one time, I operated every day by the seat of my pants. I didn't have any systems in place and I had no idea what was or wasn't working with my fitness marketing efforts. Everything changed when I decided to invest in my education and expand my knowledge base."
Sam had already been through college, where he graduated with a bachelor's degree in pre-med and nutrition, as well as a doctorate of chiropractics. Yet, he felt they didn't really drive home the most important lessons of all – how to market oneself, how to automate business processes as much as possible, and how to close more clients. He found a couple of fitness marketing experts who were living the lifestyle he imagined for himself and apprenticed for 18 months. By the time he left the wings of the professionals, he took his business off the ground and became a full-fledged millionaire using his newfound knowledge.
"It's amazing how much you can learn from someone else who has already experimented and made all the mistakes for you. I know you feel like you're so busy you can't spare the time or money to better yourself, but if you want your fitness marketing to become easier, cheaper and more efficient, you've got to put your ego aside and seek help in earning the income you know you deserve," Sam explains.
Twenty-year industry veteran Sam Bakhtiar offers several different types of fitness marketing mentorship opportunities. The most in-depth type of mentorship is his annual coaching program, where he gives participants a blueprint of how he runs his business that will virtually guarantee success. "If you want to skyrocket your income during the first month of implementation and cut your work hours, this is the program you want," Sam says.
Sam says the results speak for themselves, explaining, "One of my protégés cut his expenses $1,000 during the first month of participating in my fitness marketing mentorship program – and this is just by implementing one of the dozens of techniques I taught him! Another trainer closed $30,000 worth of paid-in-full contracts right off-the-bat, which was far beyond what he had ever done on his own."
Trainers who aren't 100 percent sure if they're ready for Sam's fitness marketing program can begin by reading "Six Figures in 67 Days" to get a taste of what Sam has to offer. For a limited time, the free download can be accessed at http://www.super-trainer.com.
About Sam Bakhtiar
Sam Bakhtiar is a Persian-born American with over twenty years of experience in fitness training and body building. After completing B.S in Premed and Nutrition, Sam also received a degree of doctorate of Chiropractics. Along with being one of the best fitness trainers, Sam is also a business and marketing expert. After establishing a successful fitness training business with substantial income, Sam is helping other professionals in the industry to achieve their business goals. For more information, please contact using the following information.
Contact Information:
Sam Bakhtiar
Fitness Concepts
909-393-9075
http://www.super-trainer.com
###