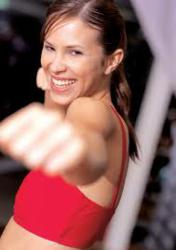 The difference between the impossible and the possible lies in a person's determination. ~ Tommy Lasorda
Chino Hills, CA (PRWEB) January 18, 2012
January is the busiest month for personal trainers who struggle to keep up with the demands of New Year's Resolution setting clients who are eager to lose weight and get fit the moment 2012 hits. Yet, how can trainers keep these prospects all year round, rather than see them drop like flies come springtime? "The secret is to under-promise and over-deliver," says Fitness Marketing Expert Sam Bakhtiar, who has spent the last 20 years working in the industry and is now the millionaire owner of the Fit Concepts franchise based out of Chino Hills, California.
Sam admits that it's much easier to say than to do because today's personal training client has high expectations. Effective over-delivering also involves relationship-building, which provides context for a trainer's generosity and creates a foundation for a lasting contract. "You want people to feel the slightest bit guilty that they aren't paying you what you're worth. You want your clients to feel like they are practically stealing they're getting so much value for their money," Sam explains.
In his fitness marketing seminars, Sam makes the following recommendations for over-delivering:

Don't overlook the little things. Always have a smile on your face, use their names, introduce them to others as personal friends, mention their achievements to others, and refill their water bottles.
Give them presents. Whether it's a personalized t-shirt, a pedometer, a healthy cookbook, a discount to a local apparel shop, or a month of free boot camp classes, people love presents!
Take a vested interest. It's no surprise the wealthiest personal trainers are also the best listeners. Ask questions and show you care. If a spouse dies, go to the funeral. Send get well cards. Be there.
Provide information. Send out newsletters, show educational movies once a month, hold nutrition seminars or cooking demos, and share the latest findings of a new research study with your clients.
Get involved. Offer to host seminars or shows for their kids' schools, their church, their social group, and ask if there is any other way you can help them. Remember their birthdays and anniversaries.
"One trick I use is to wrap up the workout two minutes early and spend those extra moments joking with my clients or answering questions to focus on relationship building," Sam explains. "Clients really respond to quality, undivided attention, especially when they know I am busy but still made time for them."
Sam Bakhtiar has much more fitness marketing expertise to share online at http://www.super-trainer.com, in "Six Figures in 67 Days," and in his exclusive business coaching program.
About Sam Bakhtiar
Sam Bakhtiar is a Persian-born American with over twenty years of experience in fitness training and body building. After completing B.S in Premed and Nutrition, Sam also received a degree of doctorate of Chiropractics. Along with being one of the best fitness trainers, Sam is also a business and marketing expert. After establishing a successful fitness training business with substantial income, Sam is helping other professionals in the industry to achieve their business goals. For more information, please contact using the following information.
Contact Information:
Sam Bakhtiar
Fitness Concepts
909-393-9075
http://www.super-trainer.com
###