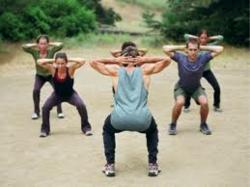 Along with success comes a reputation for wisdom. ~ Euripides
Chino Hiils, CA (PRWEB) February 01, 2012
Up until a few years ago, Sam was in need of a business boot camp himself. Often working over sixty hours a week and spending no time with his family, he quickly realized that things just couldn't continue as they were. Now known as '7FigureSam' – he turned his business into a multi-million dollar goldmine, and now with his boot camp marketing business he wants to teach others to do the same thing.
"The process is simple – if it can help a personal trainer get more clients, or help anyone involved in personal trainer or boot camp marketing, it's welcome on my blog," Sam says.
Containing both a mix of self-written articles and guest contributions, the blog will teach people everywhere how putting in hard work, developing systems, and building an action plan can actually mean you'll work less, and earn more.
This almost fantasy-like combination is, says Sam, easily achievable. However, don't think it will come easy.
"Anyone can attain fitness and financial freedom, but it won't come overnight," Sam explains. He continues, "It took me a good few years and a whole load of sweat to get where I am today. I'm dedicated to now passing my knowledge on to others, but I want them to be serious if they're to deserve my time."
Users of the blog are reporting enjoying Sam's 'no nonsense' approach to delivering vital information, often cutting straight to the point and not glossing anything over with hype. This honest and to-the-point method is, according to Sam, "The only way to do it".
The main theme of the blog is a focus on achieving personal and financial success while maintaining a deserving and healthy work-life balance, something that Sam one lacked in his life. However, while managing to turn over $2.4 million a year, Sam now enjoys the luxury of family time in a way that he never could have imagined.
"Just like a great workout – anything is possible through hard work. I now live a life that I simply didn't believe existed, and consider myself lucky. At this stage in my game I feel it's only fair to impart my success on people through useful information - to help them do the same," Sam says, with understandable pride.
About Sam and 'Personal Trainer Marketing'
Sam aims to use his experience to help others beat the competition through his new personal trainer marketing blog. By sharing his first-hand experiences and knowledge, Sam will encourage others to learn how to find the perfect balance between work and family, while steadily growing their own Fitness Marketing business.
###