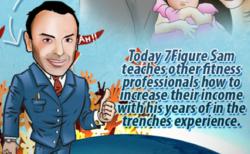 Experience is not what happens to a man: it is what a man does with what happens to him. ~ Aldous Huxley
Chino Hills, CA (PRWEB) February 02, 2012
Chino Hills based personal trainer and entrepreneur Saman Bakhtiar has launched a new fitness marketing blog which will be centered on both fitness and business success. This blog is set to touch new ground as Sam focuses on providing tips and 'how to's to business people who want to attain both physical and financial fitness.
A company is not easy to run, especially in this economic environment. Running a business can be taxing, requiring 24/7 attention to keep the business alive. As Sam has experienced first hand, such a routine is bound to wear you out. Bakhtiar states, "I was a slave in my own company and was beginning to hate life"
However, a business with effective systems in place can work better and far more efficiently, no matter what the current corporate environment may be. These systems allow entrepreneurs to not only work hard, but also work smart. They are the components of a business that serves the entrepreneur and not the other way around. Through his blog, Bakhtiar will embark on a mission to help business people deal with the everyday stress of managing their companies.
Sam earned his moniker of "7 Figure Sam" after having implemented these systems in his own company, eventually enjoying skyrocketing annual business returns of well over $2 million. While this may seem similar to many other business schemes that promise monetary benefits to every entrepreneur, 7 Figure Sam stands out due to his personal experience with utilizing the systems after years of research, trial and error, and a deep understanding of what works and what doesn't. This essentially means that the systems Sam has used are indeed effective.
Sam's new fitness marketing blog will be aimed at transforming struggling businesses into powerhouses through the very solutions he has used to achieve success. His credibility is set in stone due to the fact that he does not make false promises 'magical' solutions that guarantee miraculous business growth.
Like any good fitness trainer, Bakhtiar stresses on the importance of hard work and grit to attain goals, but he also focuses on the systems that allow businesspeople to balance both their personal and professional life. In other words, 7 Figure Sam teaches budding entrepreneurs everything about working hard, as well as working smart, to achieve the best balance between family and business and excel in both domains.
About Sam and 'Fitness Marketing':
7 Figure Sam will impart the lessons required to beat the tough competition by sharing his firsthand experiences with entrepreneurs through his new fitness marketing blog. He hopes to help people achieve a sense of harmony by showing how one can juggle both family and work without breaking a sweat.
###