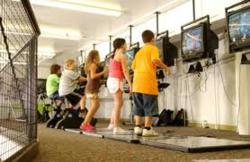 Fighting for your dreams isn't always easy but it's so worth it. ~ Unknown
Chino Hills, CA (PRWEB) March 07, 2012
Fitness Marketing Expert Sam Bakhtiar remembers a time – 20 years ago – when going to the gym was a social event. Nowadays, exercisers are plugging into iPods, reading magazines, staring at HDTVs and trying to forget about how much money they've spent on this sweaty media suite. Something has been lost over the years, which explains why only 15 percent of Americans are gym members and why 45 percent quit their facility on any given year.
Multi-millionaire Sam Bakhtiar runs a highly successful personal training studio in Chino Hills, California and a fitness marketing mentorship for other motivated, top-tier personal trainers looking to break the six-figure income barrier. He started his business from the ground-up more than two decades ago and he's seen many changes in the fitness industry over the years. Here are five reasons why, he feels, most gyms suck:
1. Fitness Marketing Overpromises And Under-Delivers.
Sam Says: "I can't believe the hype surrounding ads for gyms these days. I've seen ads promising to help you drop 10 pounds in a week. I've seen several different places claiming to be 'The #1 Boot Camp in Chino Hills.' One place said they are 'guaranteed to flatten your tummy without spending long, boring hours in the gym.' These claims are overhyped, plain and simple, so it's no surprise people feel terribly disappointed."
2. Prices Are Low So Trainers Don't Have To Care About Retention.
Sam Says: "Many gyms are priced as low as $10 or $20 a month. Consumers think this is an unbeatable value, but in reality, the service is so poor, the only way these franchises can keep bodies on the machines is to make their prices so cheap."
3. There's No Connection Or Community.
Sam Says: "In our fitness marketing materials, we don't just sell memberships; we sell experiences. Our boot camp is like a social club. We go to lunch together, we shop together, we watch movies, we go to seminars as a group. We are a bunch of crazy people who eat, sleep and breathe healthy lifestyles and we love being surrounded by other likeminded people. It's safe to say, the vast majority of gyms are not like that. Most places, you are just a forgettable face in the crowd; worst of all, trainers and other gym-goers treat you that way."
4. A-La-Carte Has Come To The Gym.
Sam Says: "Some places will give you access to top-of-the-line Cybex and weight machines, but if you want a towel, you've gotta pay extra. If you want to use their yoga mat, that's another fee, please. If you want to take their classes, you've got to pay more. People like freebies, they like knowing what they're paying for, and they like being surprised in a good way with unexpected perks."
5. Laissez-Faire Attitudes Of Trainers Do Not Yield Success.
Sam Says: "I recently read that Michael Grondahl, the CEO of Planet Fitness, said, 'I can't keep you motivated to do something you don't want to.' That's a shame because I feel one of the most important roles of a personal trainer is to be a chief motivator. You aren't just obligated to fill your clients with inspiration, hope and enthusiasm for fitness, but your programs need to be structured in ways that make a healthy lifestyle an easy addiction. Group exercise classes often get people pumped to come back time and time again. You want to challenge your people mentally and physically every time and show them real results in the first 30 days. A gym is just four walls full of equipment. But the best fitness clubs are a thriving collective of likeminded people who have found the secret to energy, loving life, maintaining friendships, and reaching their body's full potential – and they are just loving it!"
For fitness marketing advice, visit http://www.super-trainer.com and see what everyone is talking about.
About Sam Bakhtiar
Sam Bakhtiar is a Persian-born American with over twenty years of experience in fitness training and body building. After completing B.S in Premed and Nutrition, Sam also received a degree of doctorate of Chiropractics. Along with being one of the best fitness trainers, Sam is also a business and marketing expert. After establishing a successful fitness training business with substantial income, Sam is helping other professionals in the industry to achieve their business goals. For more information, please contact using the following information.
Contact Information:
Sam Bakhtiar
Fitness Concepts
909-393-9075
http://www.super-trainer.com
###