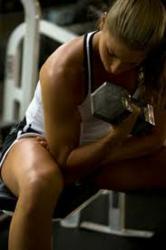 It is better to conquer yourself than to win a thousand battles. Then the victory is yours. It cannot be taken from you, not by angels or by demons, heaven or hell. ~ Buddha
Chino Hills, CA (PRWEB) March 09, 2012
Everyone wants to be wealthy, so why are so many personal trainers flat-broke? The Bureau of Labor Statistics pegs the average personal trainer salary at $29,210. The bottom 10 percent earned less than $16,000 and even the "high earners" were only making $60,000. In the programs offered at http://www.super-trainer.com, Fitness Marketing Expert Sam Bakhtiar wants to show other personal trainers how they can make $2.4 Million salaries just like he is. But first, he gives his two-cents on why so many trainers are working for so little.
1. They can't manage their emotions and they let egos, fear of failure, uncertainty or anxiety get in the way of earning a six or seven-figure salary.
2. They set weak goals that are easy to achieve and do not push them to work harder or they set goals that are sky-high and lack the milestones to get there.
3. They subscribe to "The Secret" B.S. and believe that they can just sit in a dark room, visualize their success, and wait for "the universe to conspire and make it happen."
4. They are complainers who blame others for failure and have limiting beliefs that life is something that just "happens to people," rather than looking for opportunities to create prosperity.
5. They choose the wrong mentors – people who are unethical, who have achieved nothing substantial in life, and who embody nothing more than greed.
6. They are controlled by anxiety and fear, worrying incessantly "What if I don't reach my goal?" or "What if I fail?"
7. They try to reinvent the wheel, rather than adopting systems that have already been tested, tried and true – and making millions of dollars for other fitness trainers.
8. They have not educated themselves about business and make amateur mistakes – like growing a business on credit or expanding too quickly.
9. They do not understand the basic principles of fitness marketing like how to persuade people, how to close a sale, or how to bring in targeted leads.
10. They are slaves to their paychecks and sacrifice their freedom in pursuit of more money, causing them to quickly lose sight of what is most important – creating value for the clients!
"Fitness marketing knowledge wasn't something I was born with," Sam explains, "nor was it something I learned while pursuing my Bachelor of Science or doctorate of Chiropractics. Fitness marketing is something you need to seek on your own -- from qualified sources." Sam adds that he has been working in the trenches for more than 20 years and he still works in the field he is most passionate about -- training clients, every single day. "There is a difference between working because you have to and working because you want to. With my programs, I hope to show others how to cut their work hours in half, while still managing to ramp up their income to six and seven figures."
About Sam Bakhtiar
Sam Bakhtiar is a Persian-born American with over twenty years of experience in fitness training and body building. After completing B.S in Premed and Nutrition, Sam also received a degree of doctorate of Chiropractics. Along with being one of the best fitness trainers, Sam is also a business and marketing expert. After establishing a successful fitness training business with substantial income, Sam is helping other professionals in the industry to achieve their business goals. For more information, please contact using the following information.
Contact Information:
Sam Bakhtiar
Fitness Concepts
909-393-9075
http://www.super-trainer.com